Are you tired of spending hours searching for that one perfect photo among the cluttered digital folders? Business media asset managers like yourself have to deal with vast collections of visual assets, so it is time you got a solution for better productivity. That's where photo manager software comes in!
But what is it, how do you use it, and which platform should you get?
What is Photo Management Software?
Photo management software is a program or app that lets you manage your digital brand assets. Digital assets for a business refer to any online files or content that hold value and contribute to the brand's identity, marketing efforts, or overall operations. They can include images, photos, videos, logos, design files, documents, etc.
But having a lot of digital assets can also be challenging. You need to store them somewhere safe and secure, organize them to find them easily, edit them if you need to make changes, and share them with the right people at the right time.
Luckily, you can get a photo management app to store, organize, find, and edit your digital photos, videos, or graphics. This image management system will save you time and space, improve your workflow, enhance your photos, and distribute your assets to different platforms or channels.
What Makes The Best Photo Manager Software?
To find the best photo management software for your business, you need to consider several key factors. Here are some essential qualities that make for top-notch software:
Available
Features
The best photo manager software should offer the features and functionality that suit your goals and preferences. When reviewing platforms, decide on the essential features you need - these could be advanced editing tools, organization, AI technology, and more.
Interactive User Interface
You want an easy-to-use photo manager app that allows you to navigate through your photos and access the necessary features and tools without hassle. This is where you want a clean user interface. See if your ideal software allows you to customize the appearance settings and preferences to your needs.
Compatibility and Integration
Is the software you want compatible with your devices? Most programs are only compatible with select devices and operating systems.
In addition, see if your photo management app can integrate with other programs or platforms you use. These could be photo editing software, graphic design software, cloud storage services, social media platforms, or online galleries.
Security and Backup Options
Data security is critical when managing valuable photo assets. The software should offer secure storage options, encryption protocols, and regular backup capabilities to protect against data loss. It will also be better if the program provides versioning and restore options to revert to previous versions if needed.
Price Point
When choosing your software, compare prices and features to see which photo management app offers value for money.
The 10 Best Photo Manager Software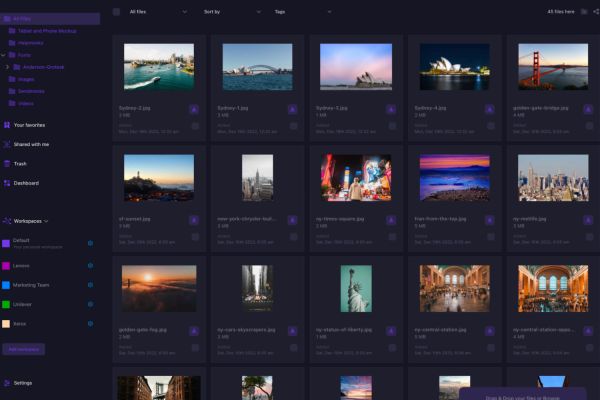 1. Razuna
Razuna is your best option if you need a simple and affordable photo management software for your business. It is a cloud-based digital asset management platform that helps you and your team organize, collaborate, share, and publish your digital assets online.
Razuna is compatible with any device and operating system and offers impeccable integration features to ensure a smooth workflow.
In addition, Razuna provides robust tools to categorize and search for photos. Its metadata and keyword tagging capabilities allow you to add relevant information and tags to your images. This makes it easy to locate specific photos when you need them.
Digital assets are invaluable, so you want to guarantee the best security when editing and sharing. Razuna is good in this aspect. It offers secure storage options, access controls, and encryption protocols to protect your priceless photo assets.
It also lets you set who can access, view, edit, or download your photos. Then, you can share your pictures with your team members or clients via email, links, or embed codes.
When it comes to editing tools, Razuna provides a range of features to enhance your images. You can crop, adjust colors, apply filters, and perform other essential edits within the software, eliminating the need for separate editing tools.
Razuna's free plan gives you 500 GB of storage space with limited sharing options. You can also create a unique workplace to interact with clients and increase productivity and workflow.
Luckily, at $50, the Bliss plan offers 1TB of storage, and you can create unlimited workspaces for unlimited users. You also enjoy more sharing options, priority support, commenting and collaboration, and more.
If you have a bigger business, check out the Enterprise plan that's customizable to your needs.
Best For:
Razuna is an excellent choice for businesses and marketing teams seeking photo management software that prioritizes compatibility, integration, organization, and security. Its versatility and flexible pricing plans suit businesses of all sizes, including startups and large enterprises.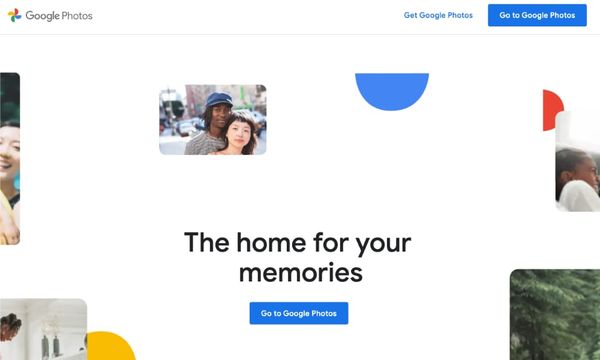 2.
Google Photos
Google Photos is a versatile and powerful cross-platform photo organizer with various features to manage and enhance your photo collection. It stands out for its seamless integration across multiple platforms. It's accessible on desktops, mobile devices, and the web.
You can also integrate Google Photos with other Google services, like Gmail, Google Drive, Google Assistant, and more.
Google Photos uses AI technology to automatically organize your photos and videos by date, location, people, things, or events. You can search your photos and videos by keywords or phrases. Google Photos also creates albums, collages, animations, movies, and stories from your photos and videos.
You also get many editing tools and smart filters to enhance your photos and videos. For example, crop, rotate, adjust colors, add effects, and use Google Lens to identify objects, landmarks, text, or faces in your photos.
An even better feature is the unlimited cloud storage option and a backup feature that ensures your digital assets are safe and easily accessible.
Best For:
Google Photos is best for small businesses looking for a cross-platform organization tool. It is a free cloud-based tool that's accessible through multiple devices.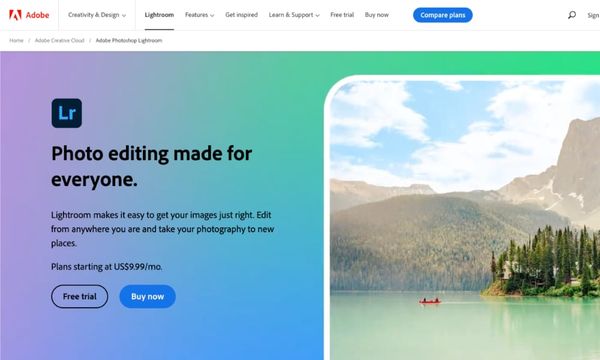 3.
Adobe Lightroom
Adobe Lightroom is a hybrid photo management and editing software that lets you organize your photos by albums, folders, or tags. You can also edit your images with professional-grade tools and presets.
Besides editing, this program has all the makings of an excellent tool for your business. For example, you can use keywords, metadata, flags, ratings, or color labels to sort and filter your photos. The People View feature helps you find and group photos of the same asset. You can also use the map module to view your photos by location.
Lightroom's cloud-based functionality enables seamless synchronization of your photo library across multiple devices. You can access or edit your photos from your desktop, laptop, tablet, or smartphone.
You'll also enjoy using the non-destructive editing feature. With it, you can edit images without altering the original file. You can also undo and redo changes and create virtual copies of your files.
Best For:
Adobe Lightroom is an excellent choice for businesses and marketing teams in industries that rely heavily on visual content and photography.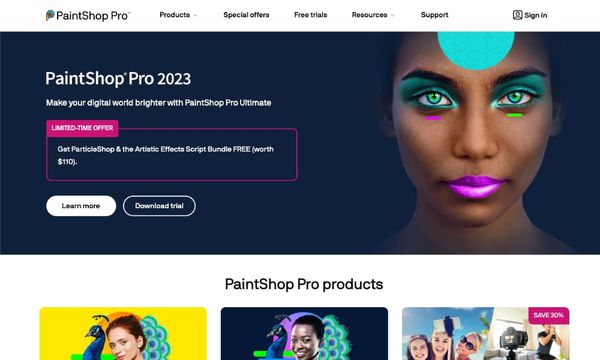 4.
Corel Paintshop Pro
Corel Paintshop Pro works with Windows 10 devices, and you'll enjoy a free 30-day trial. After that, you'll need to upgrade with a one-time purchase.
It is one of the best photo management apps, especially with the new 2022 features. For instance, you can use its powerful scripting engine to automate repetitive photo editing. You can apply custom scripts to perform specific actions on multiple photos simultaneously, such as resizing, applying filters, or adding watermarks.
This software also makes it easy to access frequently used folders or categories with the favorites panel. Here, you'll quickly access and work with your preferred resources, enhancing efficiency and productivity.
Corel Paintshop Pro is also the perfect software for creative content; you can use unique brushes, gradients, patterns, textures, and royalty-free images to create stunning graphics and designs for your marketing projects.
Best For:
Corel Paintshop Pro is ideal for marketers who need to create stunning digital files for campaigns. It is also the best organizer for these campaigns, where you can use custom scripts to complete repetitive tasks faster.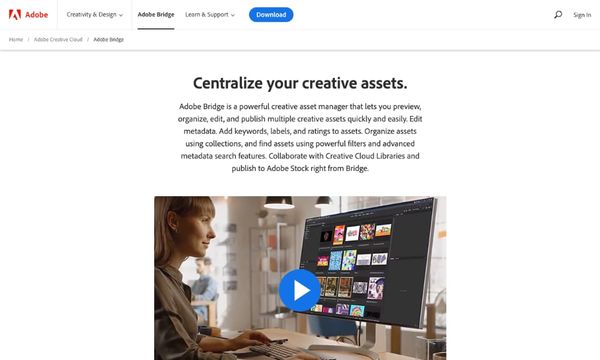 5.
Adobe Bridge
Adobe Bridge is a free digital asset management app in the Adobe Creative Cloud.
You can centralize your creative assets by accessing all your Adobe files (including Photoshop, InDesign, Illustrator, After Effects, and Substance 3D files) with thumbnails and rich previews. In addition, you can organize your assets with labels, ratings, metadata, and keywords. Also, use advanced filters or the search feature to find your assets.
You can open your assets directly in Creative Cloud apps to edit your files. You can also open your raw images for editing in Adobe Camera Raw directly from Bridge.
Are you working as a team? Share your assets with your team members using Creative Cloud Libraries or publish them in Adobe Stock from Adobe Bridge.
Like Corel Paintshop above, you can also improve your productivity using scripts. Create and apply custom scripts to your files to perform repetitive editing tasks.
Best For:
Adobe Bridge is your best program when you work mainly on Adobe. It is free to use, and you can access it through your Adobe Creative Cloud package.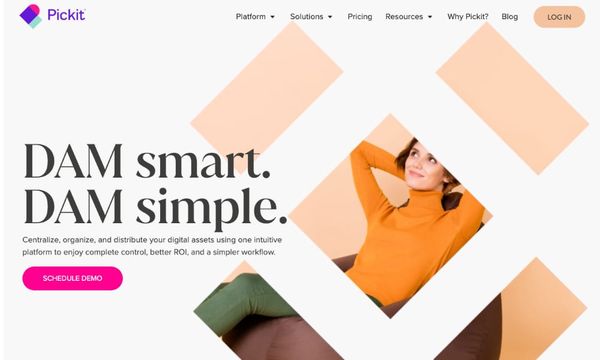 6.
Pickit
Pickit is a smart photo management software that helps you centralize, organize, and distribute digital assets using one intuitive platform. It offers a secure place for your work documents, templates, licenses, media files, etc.
It lets you control who can access, edit, or share your assets with granular permissions and roles. Pickit has a user-friendly interface that enables you to visualize all your creative assets with thumbnails and fancy previews.
You can organize your assets with labels, ratings, metadata, and keywords. Plus, there are advanced filters, collections, and search to help you find the assets you need.
This software also integrates with your tech stack seamlessly, including Microsoft Office. It has AI-powered editing tools that can enhance the quality of your photos. You can also access built-in libraries for fresh stock images and edit them from within the app.
Best For:
Pickit is ideal for marketers who also leverage other Adobe apps. It is a refreshing software that offers an easy and smart way to organize and distribute digital files.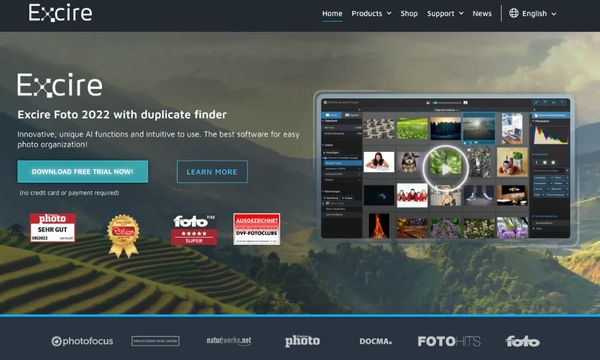 7.
Excire Foto
Excire Foto uses artificial intelligence to analyze and tag your photos automatically. It's your best option for easy photo management and quick content-based browsing.
This software can recognize hundreds of keywords and assign them to your photos based on their content. You can add your own keywords manually or edit the ones generated by Excire Foto. This makes it easy to find and organize your photos by topic, theme, or category.
In addition, it also recognizes faces with a fantastic face recognition feature. You can assign names to the faces and search for them by name or similarity.
You can also filter the images by the number of faces, their age, gender, or expression. This is a helpful feature when you need to find photos with specific people for your marketing and social media campaigns.
In terms of compatibility, Excire Foto works on Mac and Windows PCs. You also enjoy a 30-day free trial, after which you'll need to upgrade with a one-time payment.
Best For:
Excire Foto is ideal for businesses or marketers with a massive digital file portfolio. The AI search feature, with excellent face recognition, makes it easy to find and use specific images.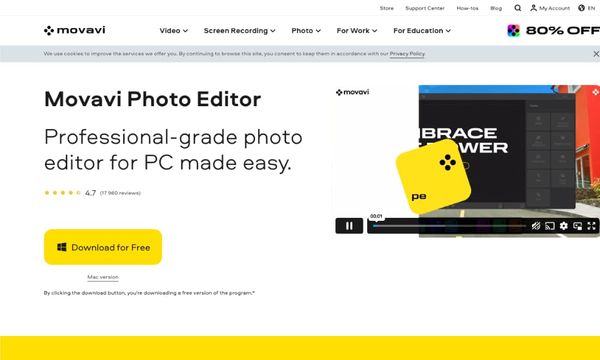 8.
Movavi Photo Editor
Movavi Photo Editor is a superb option for managing business photos. It will make creating stunning visuals for your business a breeze, especially with photo editing, background removal, and AI tools.
For instance, the software works with popular formats, including RAW files. You can crop, resize, rotate, flip, and adjust or apply effects, filters, and stickers to enhance your images.
It can also change or remove the background of your photos easily. You can use the magic wand or lasso tool to select the foreground or background, then replace it with a solid color, a gradient, or an image. Besides that, you can erase unwanted objects from your photos with a few clicks.
Have old photos that need reviving or color editing? You can use the software's AI Auto Enhance feature to optimize colors and contrast in a few clicks. Movavi is compatible with macOS and Windows and has affordable premium plans.
Best For:
Movavi Photo Editor is best for marketers who want photo editing and background removal tools to make it easy to create professional images.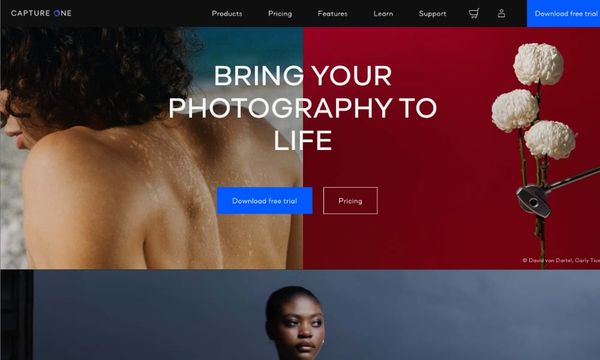 9.
Capture 1
You can easily use Capture 1 on Windows and Mac laptops. Besides the superb editing features, including cropping, trimming, flipping, and more, this software also lets you improve your photos with AI.
The AI auto-enhance feature lets you adjust the exposure, contrast, white balance, and colors in one click. You can also use AI restoration to revive old photos by removing scratches, stains, and creases.
On top of that, you can also edit and improve the background, not to mention erase objects that could make your photos unprofessional.
Finally, you can also use Capture 1 to tether. It connects to your camera and computer, so you can shoot directly to your computer and view your photos instantly. You'll need a subscription after a 1-month trial period.
Best For:
Capture 1 is best for Mac and Windows users looking for an app to edit and improve their images in a few clicks. It is also the best option for tethering, where you connect it to the computer and camera to edit photos as you take them.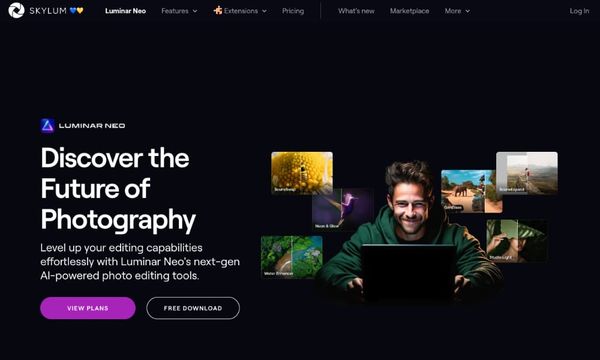 10.
Luminar Neo
Luminar Neo is a photo management and editing software that uses AI tools to help you create business images. It is Skylum's most advanced and complete app, combining the best of Luminar AI and Luminar 4 with new features and improvements.
It has a sleek and modern interface that lets you access all the tools you need in a few clicks. You can customize your workspace to support your workflow and preferences. You can also use the quick preview mode to see how your edits will look before applying them.
Luminar Neo also has a range of AI-powered tools that can enhance your photos automatically or with minimal adjustments. For instance, AI Enhance can improve your photo's exposure, contrast, color, and details. You can also select from hundreds of presets and filters to improve your images or create your own for the most unique images.
You also get accurate, realistic sky replacements and a powerful powerline removal tool. With the former, you can change skylines to change the mood of your images. The powerline remover tool removes unwanted powerlines from your photos without affecting the rest of the picture.
Best For:
Luminar Neo is best for businesses that require meticulous photo editing. It packs the best features, from AI functionalities to unique editing tools, leaving you with the best digital files.
Conclusion
Just like a master curator organizes and showcases artworks, these photo manager software solutions effortlessly manage and elevate your visual assets. Using the right one ensures you keep your digital assets safe and easily accessible. You'll also enjoy other benefits like editing, improving, and efficiently using and sharing files with your teams.
Get Razuna today and start managing your digital portfolio the smart way.