The Dropbox alternative for growing businesses
See why Razuna is the best Dropbox alternative. Over 5000 organizations worldwide can't go wrong.
Get (a lot) more with Razuna
Dropbox is a widely known cloud storage service with 500 million registered users, of which 11.9 million are paying users. Although it is a popular choice for many, better cloud storage providers may be available in the market.
If you've never heard of Dropbox, it's a cloud storage solution that's been around for a while. While it's suitable for syncing files, secure file sharing, and document collaboration, it lacks advanced features and has limited free storage space. If you want to learn more about Dropbox, check out our guide.
Compared to its competitors, such as Google Drive and OneDrive, Dropbox falls short in terms of user privacy because it does not offer end-to-end encryption (also called zero-knowledge). Additionally, Dropbox's pricing plans could be more competitive when compared to the best deals in cloud storage, and the free version of the service comes with a limited amount of storage space.
Dropbox prices
Dropbox charges $30/user/month, while Razuna offers unlimited users, including all features, for $80/TB. Choose Razuna for a reliable, feature-rich storage solution.
Razuna

Dropbox

(Advanced)

Price Example with 25 users

Price per month

$1,200

(15 TB/storage)

(unlimited users)

$750

(15 TB/storage)

Price Example with 100 users

Price per month

$1,200

(15 TB/storage)

(unlimited users)

$3,000

(15 TB/storage)

Price Example with 150 users

Price per month

$1,200

(15 TB/storage)

(unlimited users)

$4,500

(15 TB/storage)

Features

Unlimited Users

White-Label / OEM

Private Cloud Servers

HIPAA Compliant Hosting

OEM & Reseller options
Here's our detailed Dropbox comparison
Users and Online Storage
Businesses in the creative industry require a high degree of flexibility when managing the number of users and storage space they consume. Some companies may have many users who need access to only a few files, such as a few brand assets circulated throughout the organization. In contrast, a boutique graphic design agency may have a limited number of users, but they frequently work with an extensive image library that may exceed 500GB in size.
Many file-sharing services lock users into a plan that defines both users and storage. A vendor offering unlimited users or storage space provides flexibility and prevents customers from overpaying for users or storage they don't need.
While "Dropbox for Business" has some advanced features, it is not as flexible as Razuna regarding offering unlimited users or storage. Razuna is the sole provider which allows unlimited users in all their plans. This translates to customers paying only for their storage space, which is perfect for companies with many users but relatively small storage requirements. With Razuna, such companies can save on costs.
Custom Branding
By customizing your file sharing to display your company's branding and color scheme, users can experience the file-sharing platform as your business solution while minimizing the visibility of the third-party provider.
Razuna takes custom branding to the next level by offering personalized branding for individual folders across all plans. Companies with multiple clients or organizations with multiple brands can create unique account interfaces and logins for each client or brand, represented by a separate folder. For instance, an advertising agency can provide each client with a workspace that features their logo.
Razuna is unique in that it allows customization of the URL and login screen of the file-sharing system. This means the platform can be accessed on a subdomain under your main website and display your branding to users when they log in. Doing so lets you present the platform as your technology, which can be offered to your customers at a fee.
Search
Finding media files is crucial for any file storage. However, Dropbox for Business only allows searching for files using words in filenames.
Many creative businesses have non-textual files like graphic designs, videos, and other media. The conventional way to find these files is by their filenames, which most file-sharing services support. However, a more efficient and advanced feature would be to allow users to add tags to these media files, like a PNG or WMV file, and then search them via these tags. This helps users organize rich media files across folders by tagging them with visual attributes in the file, categories, projects, or other relevant information.
A file storage system must support metadata indexing, especially in this day and age where video is prevalent.
For more than 15 years, Razuna has consistently supported pre-existing metadata in your uploaded files. Our platform is fully compatible with the Adobe XMP standard, which means that any metadata you apply to your Adobe Bridge or Adobe Lightroom files will be seamlessly imported into Razuna and made fully searchable.
Additionally, Razuna enables users to tag files and conduct tag-based searches. Moreover, search results are displayed with a faceting option to refine results further.
Collections
One helpful feature for creative businesses is the ability to tag and organize images, videos, audio files, and documents into collections. These collections can span folders and workspaces, making managing and browsing extensive archives easier.
White Label
Users who want to take custom branding to the next level can white-label their platform, displaying only their branding instead of the file-sharing provider's. White labeling can be particularly useful for creative businesses like advertising agencies or graphic designers, as it can create the impression that the Business is offering asset management technology alongside its innovative services. In some cases, this can generate additional revenue if the business charges for an "asset management service" on top of their primary services.
Despite the rather steep cost, we found that "Dropbox for Business" doesn't offer a white-label option. On the other hand, Razuna, at no additional cost, allows users to remove the Razuna brand and make the file-sharing platform appear open, which can help creative businesses frame the entire third-party file-sharing solution under their brand.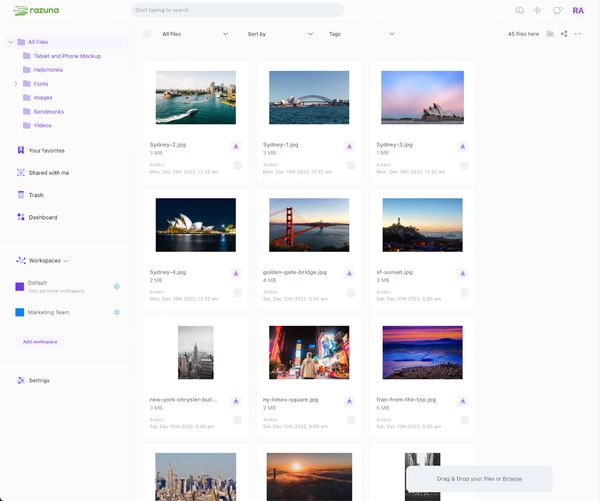 Commenting/Proofing
Managing various documents, images, videos, and sound files is crucial for creative businesses. These files go through multiple revisions before being finalized and ready for publishing. During this process, individuals inside and outside the organization need to view a version of a file, provide comments, and discuss them. They also need to receive the subsequent version and see the comments that have been incorporated. Although this is typically accomplished through phone calls or email exchanges, it is more advantageous to integrate commenting and collaboration features with the files.
With Razuna, users can easily add comments to files and receive email notifications when new comments are added. Moreover, Razuna allows annotations to be added directly to graphic file formats such as PDF, AI, EPS, and PSD files. Users can open these files and add comments, indicating any necessary changes to the image. This functionality combines file sharing with online proofing systems used by professional artists and photographers, making it a highly versatile tool.
Public Links
One of the standard features of both "Dropbox for Business" and other file-sharing solutions is the ability to share "public links." These links are created for files or folders you uploaded to the file-sharing service. You can send these links to people outside of your organization who don't have a user account with the file-sharing service. When the recipient clicks on the link, they can access or download the file through the file-sharing service. Sharing a link is a convenient way to share large or multiple files without using email and its attachments option.
In many creative businesses, receiving large files from external collaborators, such as freelancers or partners, is common. However, sending large files through public links is only sometimes feasible.
If you are looking for a hassle-free way to share files and folders with others, you might want to consider a "public upload link." With this link, you can share files and folders with anyone by simply providing them with the link. They can then upload their files and folders to your file-sharing system through a web interface. However, note that "Dropbox for Business" does not support this feature. The only "Dropbox for Business" alternative that offers this option is Razuna.
Conclusion
Dropbox for Business is an excellent tool for creative business purposes. However, it has some limitations that may not be suitable for day-to-day work with rich media content and multiple collaborators. For instance, it does not offer unlimited users or online storage, custom branding, commenting and proofing on files, lightboxes, tagging or search by tags, public upload URLs, or auto conversion of downloads. Also, the advanced search options for "Dropbox for Business" are limited to search by filename only, without offering a full-text search or different criteria filter.
While many alternatives to "Dropbox for Business" offer valuable features for creative businesses, Razuna stands out by providing a comprehensive set of Digital Asset Management features. These include the ability to create collections, robust commenting and proofing options, tags with search functionality, versatile public links, and previews for various file types. On the custom branding front, Razuna offers the most extensive branding options of all "Dropbox for Business" alternatives. This includes custom branding for individual folders, the ability to use a personalized domain and a white label option. Additionally, Razuna is the only file-sharing service that allows for unlimited users, which makes our service highly cost-effective.
Do you want to see how Razuna works?
Create a free account now or schedule a personal demo.
One more thing...
Razuna is part of the Helpmonks stack. Helpmonks is a customer engagement platform with a shared inbox, knowledge base, live chat, and email marketing tools.
Using Razuna and Helpmonks together will automatically turn your cloud based media asset library into a central hub for customer support, sales, and marketing.
As a fact, if you have a Helpmonks account, you automatically get Razuna included.