Dropbox alternatives are becoming increasingly popular as the demand for cost-effective cloud-based storage solutions grows. Being the pioneer in cloud storage and collaboration, Dropbox has a large portion of the market. However, it's not for everyone. As businesses scale, this cloud-based solution can become costly and may not provide the security, capability, or support some businesses need.
If you're facing cost, security, or capability challenges with Dropbox, it makes sense to explore other cloud-based storage solutions - and many contenders are vying for your attention. To help you decide, we've compiled a list of the top ten Dropbox alternatives that are featuring in 2023.
What is Dropbox?
Dropbox is a cloud storage and collaboration platform that allows users to securely store, share, and collaborate on files and brand assets. It is widely used by individuals and businesses alike for its user-friendly interface, low cost of entry, and expansive features.
This file-hosting service provides personal cloud, file synchronization, client software, cloud storage, and file sharing. It is available for Windows, macOS, Linux, iOS, and Android. Dropbox allows users to access their files from anywhere without syncing them across all devices.
That said, this cloud storage has some significant pitfalls. They include:
Hidden costs
While Dropbox has a free version, it only gives users 2GB of storage, which can be used up quickly. After that, their paid versions steadily become more expensive for businesses with growing teams.
From there, the Dropbox Plus Plan is the next step up, offering 1TB of storage for $11.99 per month or $119.99 per year. For businesses, Dropbox Standard Business plans start at $18 per user/month or $180 billed annually for up to three users, offering 5TB storage, data loss prevention, advanced admin controls, and priority support.
Security
Dropbox has encountered several security issues, such as hacking and phishing, leading to some users looking for alternative services that offer better security.
Search Filters
A great digital asset management software should reduce the time you spend locating documents. Users with a free account do not enjoy full-text searching and search filters, which can be extremely helpful in finding a specific file.
With all these drawbacks in mind, let's look at some of the top Dropbox alternatives in 2023. The services below offer similar features, improved security, and more affordable business pricing plans.
Ten
Best Dropbox Alternatives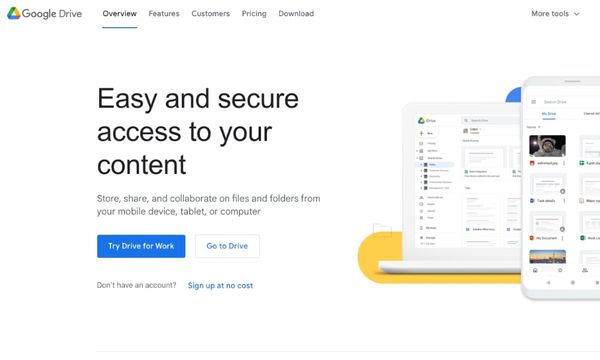 1. Google Drive
Google Drive is one of the best free alternatives to Dropbox, and as long as you have a Google account, you can access this cloud storage. The free version offers 15 GB of storage, much more generous than Dropbox's free storage of 2 GB. You can expand its storage to 100GB for $1.99/month or 2TB for $9.99/month.
Aside from allowing you to store files in the cloud, Google Drive enables you to backup files and sync settings and files across multiple devices. It lets users collaborate, sync, share data, and perform tasks simultaneously.
Google Drive also has the edge over Dropbox regarding security. It provides two-factor authentication by receiving a code via SMS or a phone call, a one-tap sign-in, or an authenticator app to access your files. Dropbox offers all of these features, save for the one-tap sign-in, which is changing the game of passwordless sign-in.
Another area where Google Drive shines is securing your data on its servers. Like Google Drive, Dropbox encrypts your data while in transit to its server and generates a key that decrypts it when you need access. However, Google takes an extra step. It encrypts that key with a second rotating master key. This means that a hacker would need two keys for access, making it harder to snoop through your data.
Google Drive best suits those seeking generous free storage and cheap plans with multiple pricing tiers. Unlike Dropbox, it has better file search functions, is ideal for storing small files regularly, and has a more popular software suite.
2. Sync
Sync takes a security-first approach to cloud storage, giving it an edge over Dropbox and other competitors. Its encryption method, known as zero-knowledge encryption, means only the user has access to their files.
Additionally, Sync offers client-side encryption, meaning your data is automatically encrypted before it leaves your device. This extra layer of security ensures that even if hackers break into their server, they won't be able to access the plaintext version of your data.
When it comes to pricing, Sync is cheaper than Dropbox. It offers a generous free plan with 5GB of storage, making it ideal for personal users. Sync's most affordable paid plan is called Personal, offering 200GB of storage for $5 per month. The next plan, Pro Basic Solo, offers 2TB storage for $8/month.
Sync has three teams plans:
Pro Teams Standard:

1TB of storage for $6/user/month.

Pro Teams Unlimited:

Unlimited storage for $15/user/month.

Enterprise:

Is designed for large organizations. You have to contact Sync for a quote.
Sync is perfect for storing sensitive files like financial records or medical documents, making it a great choice for those prioritizing security and privacy above all else.
3. MEGA
MEGA is another great Dropbox alternative for those concerned about data security. Aside from offering end-to-end encryption, it provides a private encryption key only the client can access. This, along with two-factor authentication, user-controlled encryption, and always-on privacy, make this platform ideal for those seeking a secure cloud storage option.
Teams can use MEGA's live chat functionality for collaboration. This encrypted chat feature allows users to share files and discuss projects with their team from within the app.
One of the areas where MEGA beats most of its competitors is versioning, which is the ability to view, restore, or delete previous versions of a file. MEGA stores up to 100 past versions of files for an unlimited time, making it easier for teams to track and manage document changes indefinitely.
MEGA's free plan offers a generous 20GB of storage, meaning most users can enjoy it without moving to paid tiers. You can easily increase this space to 35GB by completing simple tasks. MEGA's Pro plans include:
Pro I 2TB ($10.86/month)

Pro II 8TB ($21.73/month)

Pro III 16TB ($32.60/month)

Business plan offering unlimited storage. Contact the support team for a quote.
MEGA's robust security makes it ideal for protecting privacy. It's also an excellent choice for teams that want to keep several versions of their files for later reference.
4.
pCloud
pCloud is a Swiss cloud storage service offering one of the most secure services. It boasts military-grade encryption and includes two-factor authentication, password protection for shared files, and IP address safe listing.
This service also boasts other fantastic features for your businesses and their teams, such as:
Multiple file-sharing and sending methods

: Invite others to access folders, share links, and request files whereby you share a link to your personal cloud space so coworkers and friends can upload files for you. Now, users can easily send large files without uploading them first.

Link expiration:

Set an expiration date for a shared link, which will be automatically disabled after that date.

File syncing

: Create an imaginary drive on your desktop that doesn't take up any local storage but works in the cloud. This makes accessing and managing files easier without logging in to the web app each time.

File retrieval:

Find files easily with pCloud's trash bin and versioning system. It stores file versions for 15 days on the free version and 30 days on the pro plans.

Lifetime subscriptions:

Make a one-time purchase and enjoy pCloud's many benefits for life. Its lowest tier monthly plan, Crypto, goes for $4.17 for up to 10GB storage, while the highest tier, Premium Plus, goes for $8.33 for 2TB storage.
Overall, pCloud is an excellent choice for those seeking a cheaper, secure cloud storage solution with powerful file-sharing features. Also, this is a great option to sync files from your desktop or keep older file versions.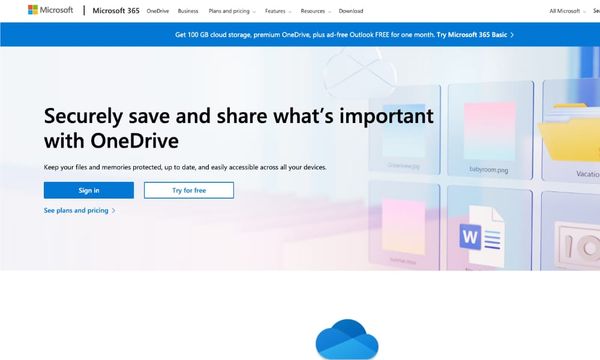 5. OneDrive
OneDrive uses the same security protocols as Dropbox to encrypt data and protect files in transit. They also have similar storage and collaboration features. That said, OneDrive is more attractive to some users due to its other unique features.
This cloud storage is the obvious choice for Microsoft users. It comes with free 5GB storage and a personal vault to store more sensitive files securely. If your team uses Office365, OneDrive is an excellent choice as it offers Office Online, where users can create and collaboratively edit documents in the cloud.
OneDrive also offers advanced sharing options, which makes it great for collaboration. Plus, OneDrive integrates directly with Microsoft 365 applications like Word, PowerPoint, and Excel, making it better suited to those who work predominantly in the Microsoft Office suite. However, unlike Dropbox, it doesn't integrate with many apps and tools.
If you want to upgrade the storage for personal use, you can get the lowest tier OneDrive 100GB for $1.99/month. Alternatively, if you'd like more space, use the Microsoft 365 Personal plan to enjoy 1TB for $6.99/month. OneDrive has two business plans that aren't part of Microsoft 365. They also don't come with any auxiliary apps.
Overall, OneDrive is perfect for Microsoft 365 users who don't want to own separate cloud storage and don't need to use other apps or tools.
6.
Box
Box provides enterprise-grade security, which makes it a top choice for business users. It has a free 10GB storage plan and an unlimited file size limit. Its collaboration features are similar to Dropbox, allowing you to set permissions for sharing and editing documents.
Unlike Dropbox, you can invite external collaborators without creating user accounts or sending invites. One thing that differentiates Box from other cloud services is that it integrates with over 1,500 apps, such as Google Drive, Salesforce, Slack, Office 365, and Adobe Creative Cloud. Another unique selling point of this service is its multiple packages with unlimited storage, making it a great choice for businesses that need to store lots of data.
Box is ideal for people and businesses who use multiple apps to send and share files. Its paid options are an excellent choice for businesses that need a lot of storage, as they never have to worry about running out of space.
7. Icedrive
Icedrive has a generous free plan with 10GB of storage space. It has end-to-end encryption for data security and a built-in media player that lets you access audio and video files directly from the web app.
Another excellent feature of Icedrive is its virtual drive which allows Windows users to interact with their online files as if they were stored on their computer. You can move, rename, copy, or delete files from their native apps, and all changes will be synced and saved to the cloud.
Icedrive also has a versioning system that records all the changes made to your documents for 180 days. Therefore if you ever need to restore an earlier version, you can do it easily.
Icedrive is great for those seeking a clean, elegant, and uncluttered interface. It is also ideal for personal use, but its lack of collaboration and document-sharing features is a major pitfall for teams.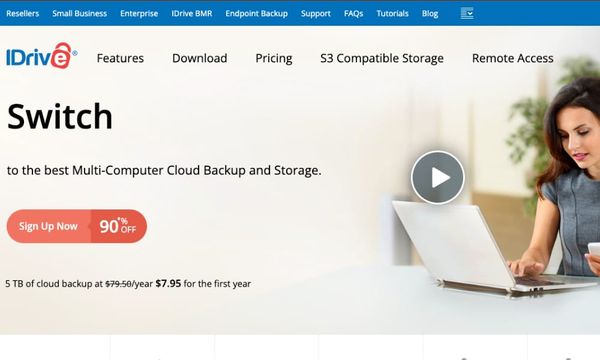 8. IDrive
While Dropbox is a cloud storage provider, IDrive is an online backup service. However, it still has cloud storage and syncing functions, which make it a hybrid service.
Its free plan comes with 10GB of storage and the ability to set up automated backups from your computer or external hard drive. The paid plans come with advanced features such as versioning, which helps you keep a record of all your changes; file-level encryption, which provides an extra layer of security; and mobile app access, which makes it easier to access your files on the go.
Although it is an online backup service, IDrive lacks features in other cloud storage services, such as sharing folders and collaboration tools. But if you are looking for a reliable cloud-based data backup service, IDrive could be the right choice.
9. NordLocker
NordLocker is a cloud storage solution from Nord Security, a company known for its security-focused products. It features client-side encryption, meaning all files are encrypted on the user's device before being uploaded to NordLocker's servers.
NordLocker's user interface is easy to use across multiple devices. The service also supports automatic cross-platform synchronization so that you can access your files from any device. You get 3GB of free storage on the free plan but can upgrade to the premium tier for 1TB at $8.99/month. This premium tier comes with 24/7 email and phone support.
This cloud storage service is ideal for those concerned about security but who don't need unlimited storage.
10.
Internxt
Internxt is an open-source distributed cloud storage service that also focuses on privacy and security. It provides end-to-end encryption, meaning only users can decrypt their files even when stored on Internxt's servers. Additionally, Internxt stores its data across multiple server locations, making it more secure than other solutions.
Some of Internxt's unique features include:
No unauthorized access to your files by first and third parties

You can limit the number of times a file can be shared

It's 100% open-source
This cloud storage solution could be a good choice for those who want secure open-source cloud storage with code they can modify and audit.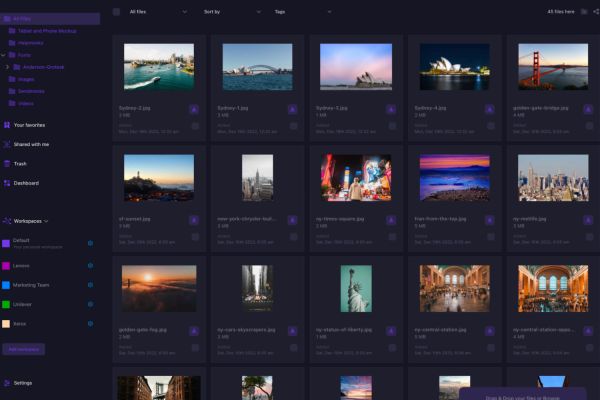 Conclusion
It's easy to understand why you would want to try Dropbox alternatives–better privacy, better security, privacy, and more features are just some of the reasons.
If you're in the market for a unique digital asset management system for your business. Razuna is an excellent platform for collaborating, sharing, and managing your files, videos, and images online. Try Razuna to enjoy an affordable and secure solution that is perfect for your business.