Digital asset management software has streamlined how companies manage their brand assets. From storage to collaboration, digital asset management software's powerful features simplify marketing and brand management.
That said, not all digital asset management platforms are created equal. Some are better than others, so we're here to help you find the right software for your needs. Let's look at the top systems on the market, their unique features, and who they might be best for.
What Is Digital Asset Management Software?
Digital asset management software (DAM) is a system that helps you manage all of your digital assets. 'Digital assets' is an umbrella term for all media files related to your brand or marketing campaigns, from poster images to the specific font and color you use for your logo.
As a quick overview, the software archives the content in an easy-to-use management system. Most software options also include detailed content histories and collaboration tools. Check out our deep dive into what is DAM software to learn more about the features and capabilities of these systems.
For now, let's focus on reviews of some of the leading platforms on the market.
13 Top Digital Asset Management Systems
These are our picks for the top digital asset management systems of 2023.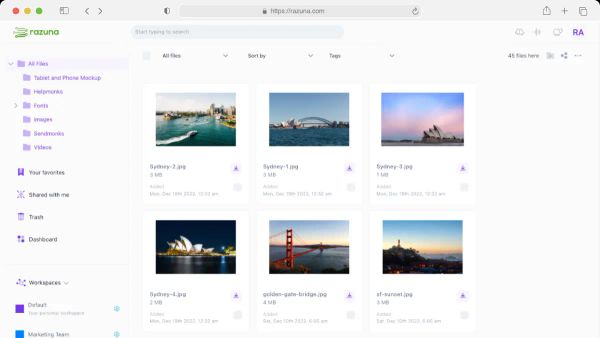 1. Razuna
Razuna is a powerful digital and creative asset management tool with easy-to-use features and an even better user interface.
The platform focuses on easy storage, powerful search, and comprehensive sharing features. You can label assets, add metadata, and access intuitive filters to make the most of your digital filing system. With the ability to set advanced user permissions, media is always secure and compliant, giving you peace of mind.
Razuna is an excellent option for teams of all sizes, including enterprises with complex needs. Agencies find the client workspaces feature particularly useful, as you can create separate dashboards to collaborate with and manage every customer individually.
Furthermore, Razuna forms part of the Helpmonks stack. Helpmonks offers a shared inbox, email marketing tools, a knowledge base, and live chat. Use the two together to get an integrated media asset library with tools for sales, marketing, and customer support.
The software's affordable pricing is another win. Plus, you can try a limited free-forever plan if your needs are simple or if you want to test-drive the platform before committing.
Main Features
Lightning fast search

Scalable storage

Access and usage control features

Client workspace for easy collaboration

Secure internal and external sharing

Comment section

Auto-tagging and metadata features

Custom content labels

Online image editor

Cloud-based

Unlimited users

Audit trail
Best For
Razuna is perfect for content creators, agencies, and creative and marketing teams of any size. It has dozens of powerful features designed to help enterprises manage their assets better and save time.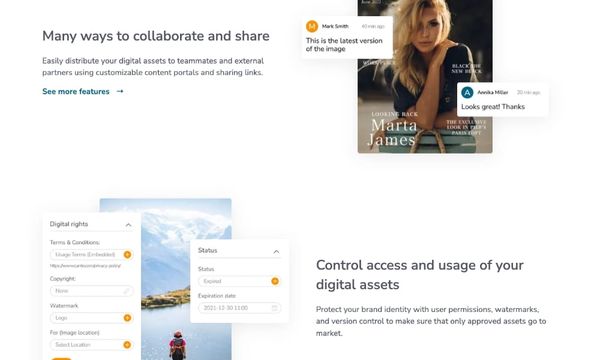 2. Canto
Like Razuna, Canto is a digital asset management system purpose-driven to control all digital assets from one place. The software features a dashboard that allows teams to manage their assets and easily share them with collaborators.
The content library is cloud-based, with intuitive content organization features. Auto-tagging and the easy search feature will free up search time for more productive endeavors.
Finally, Canto also features robust reporting capabilities. The visual dashboard is customizable, with audit histories and other analytics reports. You can easily keep track of the content, who is working on it, and what changes have been made by who.
Main Features
Cloud-based

Smart tagging and personal collections

Easy search and filter features

Communication Portals

Secure sharing

Automated

creative workflow management

Content audit trails

Multi-factor access control

Reporting and analytics
Best For
Canto is best for bigger businesses, especially those that have complex needs. It's also a good option for marketing teams within big organizations that need separate digital asset management.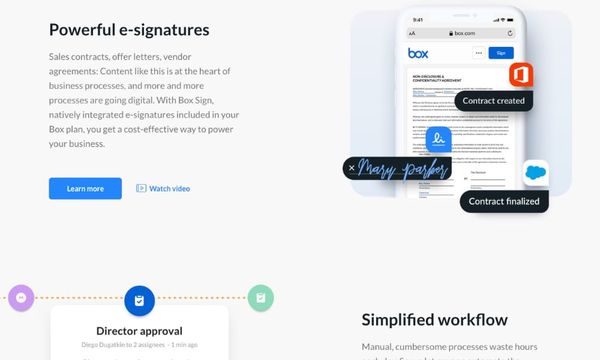 3.
Box
Box was founded with a mission to streamline content management. This is one of the more straightforward options on this list, with simple features and an easy-to-use interface.
Box aims to foster easy collaboration. You can share and store content across multiple devices from anywhere in the world. Work on the content with your team or clients from a centralized dashboard that only authorized users can access. Commenting and editing features allow you to work directly in the dashboard without leaving it.
Users appreciate Box for its app integrations–it's compatible with over 1500 apps and software platforms. Teams can integrate their Box account with other company software to create an integrated digital ecosystem.
Main Features
Media upload and sharing

Content editing tools

Commenting, access, and approval options

1,500+ app integrations

Simplified interface

E-signatures

Collaboration features

Good security

Open integration
Best For
Box is best for big companies that want to integrate their digital asset management software with existing software. The open integration feature also makes it a good option for businesses that wish to customize their asset management software with APIs and first-party SDKs.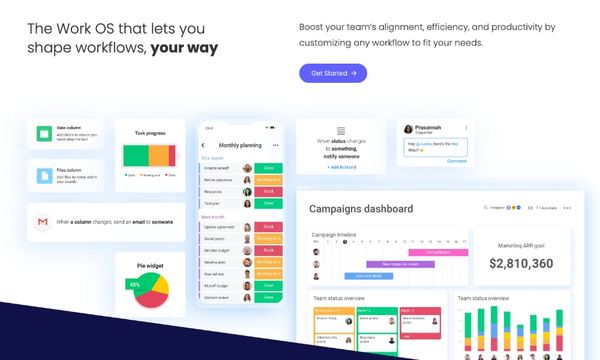 4
. Monday.com
Monday.com is a management system that lets you manage digital assets and other team workflows. It's a customizable software solution; use an API and other Monday.com features to create a digital asset management system that suits your needs.
Like the other platforms reviewed so far, Monday lets you upload and store content on the system. Content can then be shared with creative teams for use in marketing campaigns. Because the software is so customizable, you can create goals, track progress, and share this with the whole team network.
Finally, the software features real-time notifications and quick updates to help with productivity and save time.
Main Features
Access and control permissions

Customizable dashboard

Goal creation and tracking

Analytics and Reporting

Marketing campaign management

Third-party app integrations

Open API

Asset organization and sharing

Collaboration tools
Best For
Because Monday.com is highly customizable, it's a good option for teams of all sizes and industries. Teams can change the software to meet their needs. However, the interface and integrations can be a little tricky for beginners.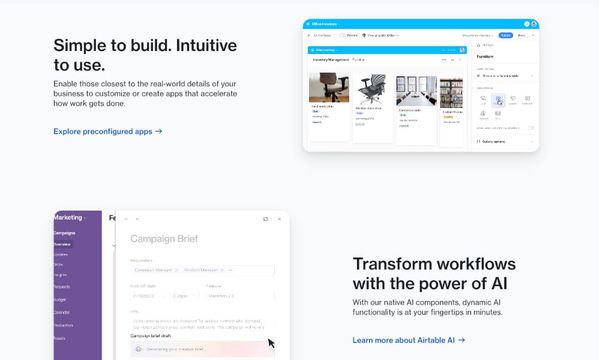 5.
Airtable
Airtable asset management is part of the larger Airtable software ecosystem. With Airtable, you can create custom workflows that suit your content creation and digital asset management needs.
Set up tables and custom fields, upload and store digital assets, and share the content and tasks with collaborators. While this might sound confusing, the software is relatively easy to use. The interface takes inspiration from traditional spreadsheet formats, which are easy to read and track. It combines this format with Kanban card stacks, calendars, and reporting features for efficient sharing and tracking.
Main Features
User access and content controls

Easy-to-use asset library

Asset sharing and collaboration tools

Metadata management

Version controls

AI-powered features

API integration

Reporting and analytics

Workflow management and customization

Easy search and filter features
Best For
Airtable works best as an asset management option for specific projects.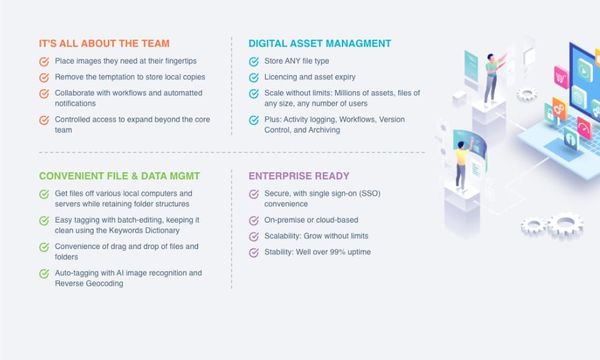 6
. DBGallery
DBGallery is a cloud-based and on-premise digital asset management system. It has all the features expected of a digital asset management system, including file storage, management, and user permissions to streamline the collaboration process.
On DBGallery, you can store any file type and scale content without limit. Advanced features include content creation, activity logs, and easy archiving. DBGallery also allows you to manage content licensing, expiry, and large-scale migrations and sharing.
Main Features
Compatible with any file format

Cloud-based

Custom workflows

Automated notifications

Asset licensing and expiry management

Secure connections and sharing

Auto-tagging and AI image recognition

Drag and drop files

Access controls
Best For
DBGallery is a good option for teams of all sizes. The software works well for companies with a large, geographically dispersed workforce.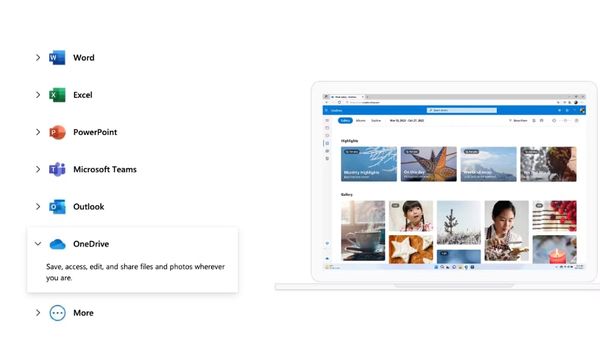 7
. OneDrive
OneDrive is a Microsoft product offering a simple yet effective digital asset management system.
Equipped with upload and share features, you can create public and private asset libraries. Edit and comment on this work with other team members or relevant third parties.
As with the other digital asset management software options, OneDrive provides security and permission controls. You can hide as much or as little as you want with customizable authority controls and security features.
Main Features
Simple interface

Online servers

Edit and commenting features

Communication tools

Asset library with easy sharing

Customizable content authority controls

Third-party integrations
Best For
OneDrive is a good option if your company works with other Microsoft software, as integrations will be streamlined.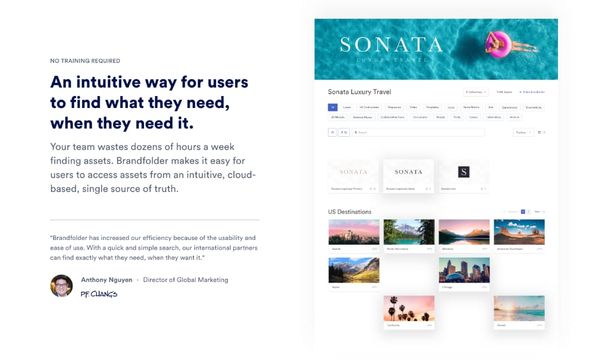 8
. Brandfolder
Brandfolder offers a digital asset management system that is easy to use for both admin and outside users. Through AI and ML technologies, Brandfolder's software aims to learn what users need. It then offers features to streamline the storage, sharing, and creation process of brand assets and marketing campaigns.
It also offers security features for secure file sharing within the company and with third parties. The software is compatible with most modern file formats, including 8k video.
Main Features
Collaboration tools

Secure sharing

Easy admin controls

Asset library

Asset sharing and categorization

Metadata features

Easy search and filter options

Reporting and analytics

File conversion
Best For
Brandfolder is a robust system better suited for medium to enterprise businesses that want to prioritize efficiency.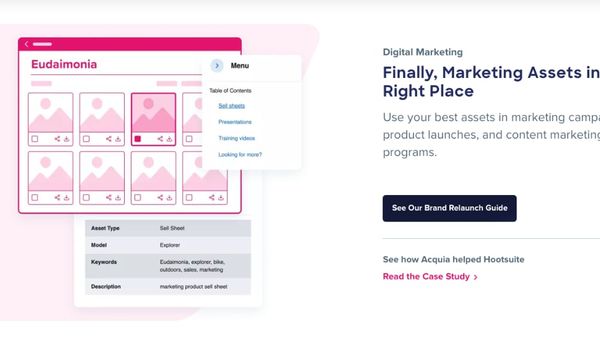 9
. Acquia DAM
Acquia DAM is another modern solution to digital asset management. The software features some of the newest AI-powered features, including configurable metadata schema features and auto-tagging.
Access the API and built-in integrations to connect with over 50 approved integration options, all of which aim to improve content creation, editing, and storage workflows. Acquia DAM also works inside the Acquia Digital Experience Platform, a software ecosystem that seeks to improve productivity and collaboration.
Main Features
AI-powered tools

Metadata features

Asset library

Sharing, editing, and commenting tools

Communication options

Search and filter systems

Content sharing authority and controls

Pre-built integrations

Open API
Best For
Acquia DAM is best for companies already part of the Acquia Digital Experience Platform ecosystem. It's also a good option for companies needing more advanced asset management features.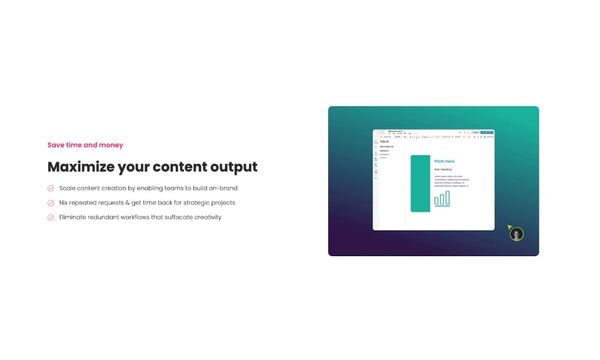 10. Marq
Marq is a brand asset management and template tool that safely collects and stores brand assets in secure folders. It allows businesses to create brand asset templates that ensure the team can produce on-brand media on a whim.
Most content editing features are locked, making it an excellent tool for sharing assets with outside designers. Users can see and interact with the content, but the locked feature prevents them from applying changes.
It's also simple to use, which helps even non-designers navigate digital assets confidently.
Main Features
Lockable templates

Templatize all brand assets

Collaboration tools

Asset library with accessible share features

Search and filter controls

Social sharing and publishing

Design importing options

Easy-to-use user interface
Best For
Marq is best for companies that want to create a template or a design portfolio for brand assets and marketing campaigns. It's also a good option for teams that don't have professional designers.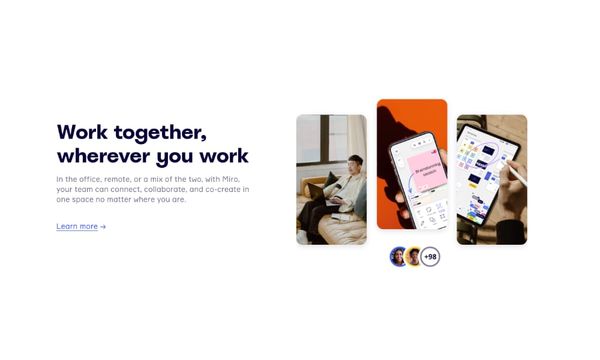 11. Miro
Miro is a digital asset management system and a company-wide online whiteboard. Miro's goal is to streamline and simplify design and asset management, no matter the size of the team.
The software features over 250 design templates and frameworks for collaboration, content creation, and storage. It also integrates with leading software like Microsoft, Slack, DropBox, etc. An open API allows you to customize the platform to create the ideal company fit.
Main Features
Collaboration tools

Asset library with easy sharing

Asset authority and access controls

Search and filter options

Open API

Tagging and version control

Third-party integrations

Reporting and analytics

Pre-built templates and workflows
Best For
Miro was built with IT companies and creative industries in mind. Miro is a good option if your business requires a lot of digital creation and collaboration.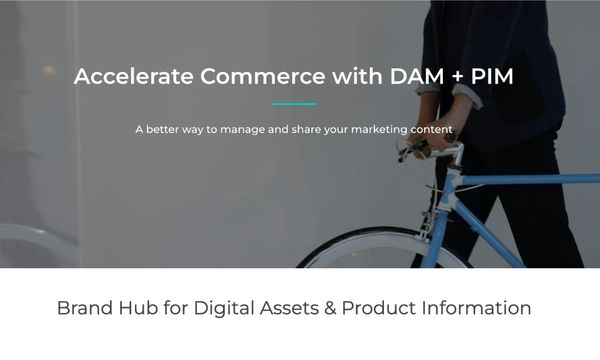 12. Amplifi.io
Amplifi.io combines digital asset management with product information management (PIM), which allows companies to share massive amounts of content and information from one platform.
As with other digital asset management systems, you can collect, store, and share all brand and marketing assets. But with PIM, you can also add and keep all your product information alongside the digital assets.
Main Features
Collaboration tools

Asset library with sharing abilities

Asset authority and access control

Product information management

Search and filter options

Digital asset categorization

Metadata features

Content publishing features

Open API

Reporting and analytics
Best For
Amplifio.io is best for larger organizations that want to manage their product information alongside their digital assets.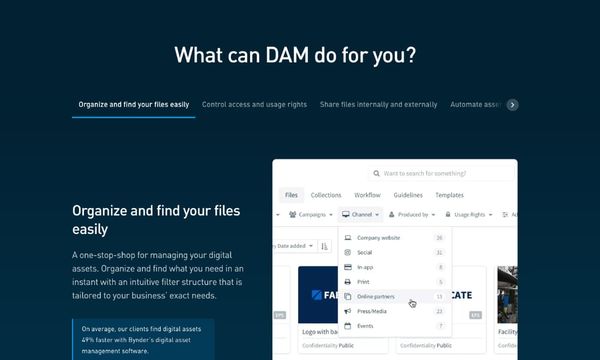 13. Bynder
With customizable asset management tools, Bynder helps teams manage digital assets their way. It prioritizes team relationships by creating accessible communication and touchpoints for the entire digital asset lifecycle.
One of the most significant benefits of the Bynder digital asset management system is the Bynder ecosystem. Users can integrate with other Bynder products and software to further streamline the management process.
Main Features
Collaboration tools

Asset library with easy sharing

Asset authority and access control

File protection and conversion

Search and filter options

Digital asset categorization

Metadata features

Bynder ecosystem integration

Open API

Reporting and analytics

Digital asset archiving and retention
Best For
Bynder is a good option for Enterprises. Due to the high price and maintenance, it's really only suited for businesses with deep pockets. Its features work exceptionally well in creative niches like digital marketing and design.
Conclusion
Digital asset management software helps everyone, from content creators and marketing teams to small businesses and large corporations, manage their digital creative assets. It streamlines collaboration, ensures secure sharing, and saves time.
For powerful software guaranteed to improve your creative workflows and save money, try Razuna. Get started today and experience future-proof digital asset management.