Asset and brand management have dramatically changed in the 21st century. Most companies have to manage dozens of channels and thousands of snippets of digital content.
Fortunately, management systems have also changed and evolved to meet those needs, introducing a whole new generation of digital management software.
One of the most interesting options for brands is cloud digital asset management (DAM). Cloud DAM easily collects, manages, and streamlines digital assets, providing brands with a host of benefits that lower costs and increase revenue.
What Is Cloud Digital Asset Management?
Cloud digital asset management involves the use of a cloud-based platform like Razuna where users can store digital assets, from images to audio to color palettes. These assets are accessible through an online portal, usually a website or an app. All you need is the account details and an internet connection.
Users can easily upload, view, edit, filter, organize, and download the assets in the cloud storage. It's also easy to collaborate with other team members and share content with third parties. This makes it a convenient solution for brands needing to improve their overall management of brand assets.
12 Benefits Of Using A Cloud-based Digital Asset Management Solution
Now that we've established what cloud-based DAM software is, let's take a look at the biggest benefits of using it.
Quick Asset Upload & Download
Cloud DAM systems have the benefit of being untethered. Users don't need to download any integrations or combine their native infrastructure with that of the software.
Because of this, it's easy for users to quickly log in and access their assets. As long as the user has a stable internet connection, they can upload and download assets at their leisure.
Cost Effective
Most cloud DAM software provides users with a variety of tiers to choose from. Instead of having to pay for one, big software bundle, users can choose from a variety of subscription tiers. You can choose the tier that has the features you need and the price you want.
Before we had the sophisticated DAM options we have today, most brands had to either buy different software and manage them all collectively.
Today, you can choose a monthly subscription, one that fits your budget, and rely on the software provider for upgrades, upkeep, and management.
Scalable DAM Options
As mentioned above, you can choose from a variety of pricing tiers. The higher the tier, the more advanced the features. Unfortunately, the higher tiers can be especially hard on startups or companies that can't afford large expenses.
But with scalable cloud DAM software, you don't need to add an expense beyond your means. You can choose the cloud DAM tier that matches your budget and your current needs, and upgrade it as your needs and revenue grow.
The size of cloud DAM systems also far outmuscle outdated asset management. With cloud storage options of 450 TB and growing, there is no limit to how big you can go.
Free Up IT Teams
If you have a small IT team or a team that is overwhelmed with projects, you can't add building and managing a DAM system to their to-do list. Luckily, with cloud DAM, you don't need to.
Cloud DAM frees up your IT department to manage other, more important jobs. The software provider will manage the software, build and send out updates, deal with issues, and provide other customer support services.
Easy Distribution & Collaboration
Because the DAM system is online and only requires an internet connection, if someone uploads content, it'll be available to everyone with the login details within seconds. If users are working on a project, it's easy to distribute content to all parties.
The same applies to collaborations. Whether the user is sharing with other teams or a third party, distributing high-quality content has never been easier.
Advanced cloud DAM systems also offer additional commenting and collaboration features that further streamline the process.
This ease of distribution has also made it possible for people to comfortably manage remote work. A cloud DAM system works as, if not more, effectively than even the fastest in-person company meeting. Team members can collaborate remotely from their own devices and at any time.
Accessible On Multiple Devices
Old asset management systems weren't available online. Users were required to have access to a specific device to access the content. Luckily, this is a problem of the past.
Because cloud DAM software uses the cloud and an online portal to access the content, you can get ahold of your assets from virtually anywhere. This also means you no longer have to deal with LAN connections or slow VPN logins.
As long as the device you're using is capable of handling the minimum system requirements of the website or app, you can quickly and easily log in and access your assets.
Comprehensive File Format Support
Brand assets come in a wide array of formats. From .jpegs to .mp3 audio snippets, there is no one file format for a brand asset.
Cloud DAM systems understand this. With a growing number of supported file formats, users can upload every asset they own, even the most obscure, impossible-to-recognize file formats and work with them in one centralized place.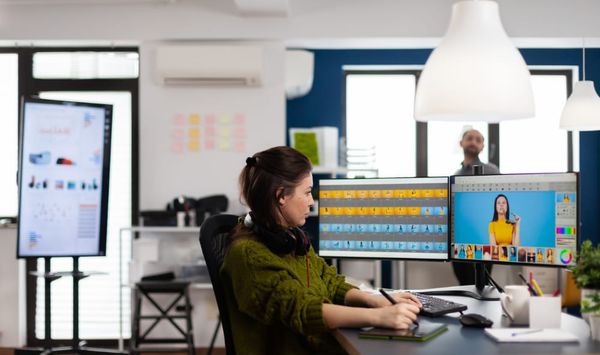 Better File Asset Organization
Cloud DAM software reimagines file asset organization. Instead of managing multiple channels, and dealing with duplicates, bottlenecks, and other pitfalls, users can now easily access and organize their content.
System features, like folder description, tagging, and favoriting, organize content in a cohesive, consistent, and understandable way.
Better organization also means better asset utilization. With so many files to choose from, organizational tools like the ones above ensure no asset is lost to the endless scrolling abyss.
Powerful Search & Filter Capabilities
Most DAM systems hold thousands, even tenths of thousands of assets. Trying to find one file in a sea of them is never easy. It also lowers the quality of the asset pool, as most users will pick the closest option instead of the best one.
But with the powerful filter capabilities of the cloud DAM system, users never have to scroll through thousands of assets or deal with unreasonable search times ever again.
The first improvement is the filtering capabilities. Users can quickly customize and quantify the assets they add.
Cloud DAM features include:
Custom labels

Keywords

Descriptions

Metadata

Auto-tagging
Next is the powerful search option. Because the assets are on a cloud platform, your devices don't have to individually load each and every asset. If you type a term into the search bar, the cloud DAM will instantly filter thousands of options and display the ones that match your search.
Elite Security
Cyberattacks cost businesses a lot of money. Secure software isn't a luxury, but a priority. For many, this feels like another feature that costs money most companies don't have.
Fortunately, cloud DAM comes with powerful security built into the system. It requires no upkeep from IT and is regularly checked for bugs or breaks in the defense.
Saves Time
It's easy to see how cloud DAM saves time.
First, we have organization, filter, and search capabilities. All of these features save users from hours of searching and scrolling. With lightning-fast search options and tagging, users can get the content they need in seconds.
Second, users no longer have to manage multiple channels or deal with software integrations. All you need is internet access and the login details to gain access.
Finally, we have automation. Automation like auto-tagging and metadata embedding take care of much of the most menial and time-consuming work. Users no longer have to add basic tags to the content they upload, which is a massive time saver if you're uploading hundreds of files a day.
For example, Razuna users save on average 6 and a half hours a week because of the above features.
Easy To Use
Cloud DAM software is easy to use. Because most cloud DAM software supports multiple file formats, you'll find all your content on the same dashboard. The dashboard instructions are also easy to understand, with straightforward wording and functions.
Combined with the easy but powerful tagging and search features, you'll find it's a far cry from old asset management systems.
Key Takeaways
Cloud-based digital asset management software stores brand assets online. Users can easily access the assets from devices with internet access, as long as they have the account details. This is a far cry from the multi-channel or in-house contraptions of the past decade.
The ease of access is only one of many benefits enjoyed by users. From better resource management to effortless collaboration, powerful cloud DAM software like Razuna allow brands to better manage their assets, their time, and their money!