With a structured process and specialized software solution shaping the way you handle digital asset management (DAM), it's easier to organize, access, and share your creative digital assets, like images and videos. Essentially, you can derive greater value from these materials.
But what is DAM, and who uses it? Also, what benefits do you get from incorporating best practices into your workflows? In this piece, we cover everything you need to know on the topic.
What is DAM?
DAM (digital asset management) is a business process that helps organize, store, retrieve, and distribute digital assets. These include media, music, photos, images, videos, animations, etc. Digital asset management also helps organize data by size, type, and other custom categories.
At the same time, DAM is also a software solution or information management technology that acts as a system for organizing and accessing your media assets.
We won't go into too much detail on the platforms here. You can read our posts on DAM software and digital asset management software reviews to better understand what they offer. For now, let's focus on who uses DAM and why.
Who Needs a DAM System to Improve Their Processes?
Whether you're a content creator, a large corporation, a retail company, or a realtor, having an effective DAM system is essential.
Here is how different users can implement digital asset management:
Designers, Content Creators
, and Agencies
Photographers, creatives, graphic designers, artists, and agencies use DAM systems as a central point where they store, access, and collaborate on brand assets. They also use it to upload media for distribution and review.
Often, the software integrates with project management and design tools like Adobe Creative Suite, making it a winner for creatives.
Sales and
Market
ing Teams
These professionals use a DAM system to streamline their sales and marketing campaigns. They can access notes on brand assets, track changes and uses over the years, as well as collaborate with external stakeholders.
IT Personne
l
IT teams are charged with protecting a company's digital assets. Digital asset management is helpful for assigning user rights permissions and maintaining business system security. They can also set expiry dates for asset access to limit access and ensure compliance.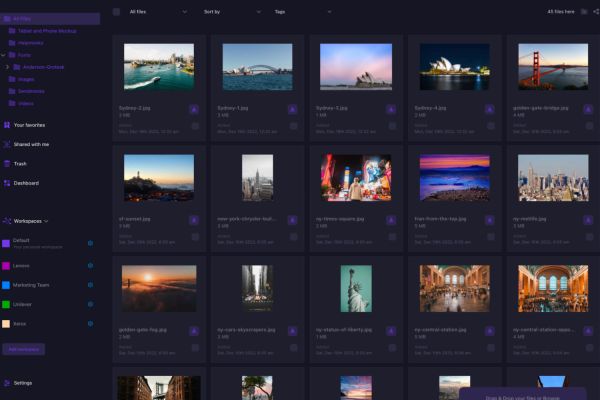 Top Benefits of Having an Organized Digital Asset Management
System
Here are some of the top benefits of having a professional system in place to manage your digital assets:
Improve Brand Management
Having a central platform that your internal team and stakeholders can access to share and collaborate on files ultimately streamlines how you manage your brand identity online. Because everyone has access to the master documents and templates, you can rest assured that there will be consistency across your online profiles. Customers will be met with a consistent experience no matter where they interact with your business, whether on your socials, website, or other online platforms.
Launch Content Faster
File organization plays a huge part in being able to launch marketing campaigns quicker. When your files and media content are neatly labeled and filed, it's simpler to locate them. In turn, there's a much faster turnaround time to design and launch marketing collateral.

There is also the question of how long it takes to download and upload files that various team members are working on. It can take hours out of the day if people use multiple tools and platforms to do the job.
Because a DAM system acts as a central point where you store, organize, and locate assets, this helps to streamline the creative workflow. With minimal redundancy and a united dashboard, launching content to the world is easier and faster.
Supercharge Productivity
Having the right tools at your disposal is a great way to increase productivity. The DAM system makes it easier to distribute and create content, as well as manage that content. That alone can go a long way in boosting productivity. DAM is the perfect tool to launch marketing campaigns without spending a ton of time planning them out.
A project management integration feature is a fantastic tool to manage projects and help reach project targets. With DAM, you boost productivity and project outputs without spending more on agency partners or hiring additional staff.
Scale Your Business
DAM systems can help you overcome the challenge of scaling and growing your business. They enable you to manage a larger volume of assets, increase collaboration, and improve your internal management systems. You can easily expand your storage space and get state-of-the-art security as your business grows, only paying for what you need.
Asset Usage Analytics
Knowing how your content is used and who uses it is helpful. Analytics and asset usage stats from your DAM system help you monitor this. You can track insights such as media downloads, shares, and views by asset collection, organization, or user. In turn, you can use these insights to optimize how people interact with your content and work out ways to better support your business goals.
Foster Collaboration
Digital asset management works incredibly well with large teams, empowering everyone to take ownership of their data and work on a singular platform to boost collaboration.
It allows team members to access the data and assets they require from wherever they are, whenever they need it. With DAM, teams can manage, store, organize, and grow digital libraries, which is great for working together.
Improve Organization With Rich Metadata
A key feature of digital asset management is being able to store and organize data according to an intuitive hierarchy. This eliminates the potential of duplicating files and helps to prevent critical data loss.
You can add media descriptions, called metadata, to your digital assets to make it easier for everyone to find what they are looking for. You can input keywords, descriptions, labels, etc., to ensure everything is filed correctly.
Another helpful organizational tool is being able to track changes to your content assets. This way, it's straightforward to see who previously worked on any one file and when it was last updated.
Better Media Security and Compliance
Inevitably, when dealing with your brand content, you must track licensing agreements and their expiration dates. This, of course, is tricky when you have a sizeable library of photos, videos, logos, and other media. But, failing to uphold this can harm your brand reputation. You might find your content being used online without your consent.
Luckily, DAM systems have a digital rights management feature to help ensure all licensing agreements are valid. You can set user permissions, licensing expiration dates, and alerts for licensing expiration in your system to automatically receive notifications when you need to take appropriate action.
Conclusion
Digital asset management is an amazing process and tool to manage and organize your data and content. The benefits of being able to easily access your business's digital assets are tenfold. With a DAM system, you can boost productivity, supercharge your brand, and improve team collaboration.
If you are ready to try leading digital asset management software, sign up for Razuna. With powerful features and affordable pricing, you have nothing to lose and everything to gain.