A good creative asset management system is central to the lives of many savvy marketers and content creators. It allows them to manage their creative assets from a single platform, reduces search time, and optimizes resources. As a result, they can make the most of their marketing campaigns while improving their brand image.
Before committing to a platform, let's look at what a creative asset management system is and how it'll change the way you think about content creation and storage. Lastly, we'll recommend five of our favorite systems to give you a head start.
What is Creative Asset Management?
Creative asset management refers to how a company manages its marketing materials, logo components, and brand assets.
The management aspect encompasses a wide array of mediums, including images, videos, gifs, stickers, posters, audio, sound snippets, rich media, etc. Any media related to your brand, even the font size on your logo, is part of your business's creative assets.
For decades, companies managed their creative assets across multiple platforms. Today, however, creative asset management systems have stepped up to simplify and streamline the process.
What is a Creative Asset Management System?
Creative asset management systems are created specifically to store creative assets through every part of their lifecycle, from inception to completion. It aims to help brands build and file their creative assets with specific features like tagging, asset histories, and comment sections.
Instead of managing thousands of files between Google Docs, Dropbox, and your email, you can effectively store all your creative assets in one place. You can also keep track of all the changes and collaborations that led to the final product.
It's a simple yet powerful difference.
What to Expect From Creative Asset Management Software
Basic features of the software allow easy access, filtering, and search capabilities of the content. Most platforms accept various file formats, which means you can put your images right next to your audio snippets and other lesser-used file formats.
Easy search and share functions also make it easy to collect and distribute creative assets to the necessary team members. This simplifies the marketing review and editing process.
And finally, when you are no longer using a particular creative asset for a marketing campaign, you can store the asset in your management system. Users can access it for future use, while detailed notes and reporting provide an asset history so teams can replicate key points.
Even when considering just the most basic features, it's clear there are many benefits to using asset management software. But it doesn't end there.
Here are more advanced features that streamline the creative asset management process even further:
Cloud-based software

allows for easy, company-wide access and instant backups of all your creative assets.

With client workspaces, you can create dedicated

chatrooms

and sections for teams to collaborate and effectively work with clients.

Internal and external share functions make it easy to send creative assets to clients or third-party collaborators.

AI, auto-tagging, and metadata features free up time and simplify the asset management process.
Top Ways Creative Asset Management Software Will Change Your Workflows
Let's examine all the powerful ways creative asset management software will revolutionize your branding and marketing campaigns.
Supercharge Content Creation
Creating and using content at scale is much easier when you have the right tools supporting you. Don't underestimate the power of a single platform to house your marketing team's and company's digital assets.
But it goes so much further than just storage.
Automation tools and features like auto-tagging streamline the creation and organization process.
Then, the built-in communication tools simplify how company collaborators work on a project. It's also much easier to share content with third parties while protecting your content and keeping track of any changes to the digital asset.
Companies can create, collaborate, review, and ultimately archive creative assets from one platform without hassle.
Safeguard Digital Assets
Sharing with third parties and safeguarding your content has never been easier. Creative asset management systems are cloud-based and come with all the security and authentication systems we've come to expect from online storage.
This safety extends beyond the confines of your software.
Whether sharing content with a client or a third-party collaborator, you can create secure links and chats that allow access to your content without putting it at a security risk.
Uphold Your Digital Brand Integrity
Creative asset management platforms compile and store all your brand-related content in one safe space. This includes assets like your logo font, color, and other brand identities.
Remember, your brand is your greatest asset. With quick and secure access, you can guarantee your company, graphic designers, and other collaborators maintain your brand integrity across all fronts.
Optimize Your Resources
Creative asset management software allows you to save time and money, and optimize your resources.
Instead of paying for storage and management services across multiple platforms and possibly allocating staff resources to oversee the different systems, you only have to pay for one subscription.
Managing assets across multiple platforms is time-consuming for everyone involved. But with a creative asset management system, you effectively reduce search times, content losses, and content research and collection downtime.
This saves employees time, which they can use in more productive endeavors. In turn, this can save money and increase profits.
What's the Best Creative Asset Management System? (Reviews)
As you can see, creative asset management software is powerful. But not all management systems are created equal. Fortunately, we've compiled a few of the best creative asset systems for you to browse through.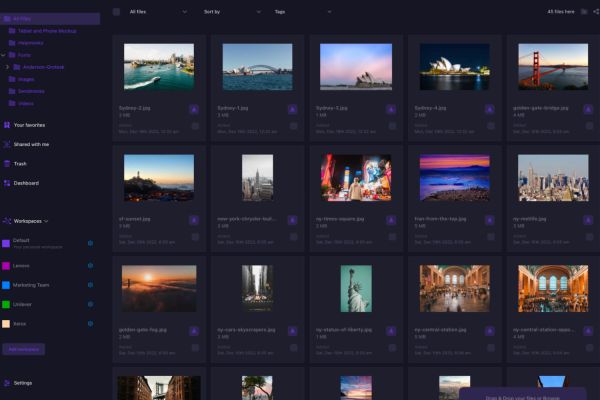 1. Razuna
Razuna is a premier creative asset management system with all the features you could ask for. Equipped with a centralized asset management platform, powerful search features, automation, and metadata features, it streamlines the creation, review, and archival process.
Combine this with its secure sharing and chatroom features, and you'll find it is perfect for internal and external collaboration.
Other impressive features include:
Lightning-fast search with intuitive filters

Broad file support to store 450+ formats

Asset commenting system

Advanced security features to ensure content is protected

Analytics to monitor what your users are accessing and when
Best For
Razuna is great for businesses of all sizes. It's the best option for companies that want a powerful, all-in-one creative brand asset management system that streamlines collaboration and search capabilities.
Razuna is called by many the Digital Asset Management for small business. It is affordable, easy to use and has all the features you need to manage your digital assets. Furthermore, you can get started for free with a generous 500 GB of storage space. Paid plans are only $50 per month for each 1 TB of storage space. Moreover, Razuna also offers cloud based dedicated servers for your company and HIPAA compliant hosting for the healthcare industry.
2. Canto
Canto is a simple but comprehensive asset management system that aims to organize content and simplify content sharing. Another of its more promising features is its focus on secure sharing and storage.
Canto allows you to manage your digital rights and access with ease. It also features a centralized dashboard for easy control.
Other features include:
Sorting options by file type and date to help you locate assets

Workflows that simplify transparent task management

Set user permissions to access or limit access
Best For
Canto is best for medium to enterprise-sized businesses that need an easy-to-use creative asset management system that works like Dropbox with advanced features.
Click here, if you are looking to switch to the best Canto alternative.
3. Box
Box works very similarly to software like Dropbox and OneDrive, by creating a cloud-based storage space with secure sharing. Where it differs is its asset management communication tools.
Users across the company can comment and collaborate on content in real-time. The simple interface and features also make it easy for all company members to navigate the software.
Other top features include:
Monitor analytics related to content activity

Work with various file types

Access control and permissions
Best For
Box is a good option for small to large companies looking for a simple interface. It's an effective software option for companies that don't need advanced asset management features.
4. Monday.com
Monday is a customizable platform that allows users to easily organize and store creative assets. It aims to provide instant uploads and accessibility for all team members, which drives campaigns and creative endeavors along faster.
The software continues along this vein with simple automation, which frees up time for employees to complete other tasks.
Other prominent features include:
Create custom workflows to suit business needs

Visualize content related tasks

Dashboards and widgets to display information you need
Best For
Monday.com works with any business size. It is a good option for companies that require more customization features or want to use their asset management software in various sectors.
5. Airtable
Airtable is a simple creative asset management platform that combines spreadsheets with easy-to-use communication tools. Users can use Kanban card stacks and file attachments to create a content spreadsheet, which you can then share with collaborators.
Other features to access include:
Track deliverables and campaign milestones

View campaign budgets and capacity alongside content assets

Track goals and campaign status across channels
Best For
Airtable is a good option for small businesses or companies that want asset management software for individual creative teams. It's also a good option for those looking for a spreadsheet and share interface.
Conclusion
Creative asset management software allows companies to collect, review, collaborate, and archive brand and marketing-related content.
From images to logo font colors, users can store and share all brand assets from one point. This ensures all creative assets are kept safe while upholding brand integrity, streamlining the creation process, and saving time and money.
To access the best creative asset management software at the best price, give Razuna software a go. Get started with Razuna and experience the power and ease of future-proof digital asset management.