Your branding and marketing teams are constantly creating content, driving awareness, and marketing your brand. This steady stream of tasks requires dedication, hard work, teamwork, and collaboration. And with so many players in such a time-sensitive game, they can't afford to lose focus.
That's where brand management becomes essential, but it's a time-consuming and challenging process.
Fortunately, brand management solutions can help your team while you save time, money, and effort.
As a business owner, you know how important branding is. But how are you managing your brand? Read on to discover the top seven brand management solutions on the market and what they can do for you.
What Are Brand Management Solutions?
Branding is a system of creating a message and visuals that make your company instantly recognizable amongst all your competitors. It showcases your company's identity. Brand management is what you do to nurture and promote that brand. But what are brand management solutions?
Brand management solutions are software products that help companies of all types and sizes manage their brands. They include tools for categorizing, sharing, and storing branding-related digital assets like documents, logos, videos, and images.
By centralizing everything you have on file regarding your brand, your company can streamline your brand marketing processes and enhance productivity and efficiency. But the best brand management software can do so much more than that.
What Does Brand Management Software Do?
There's a common misconception that brand management software is just a media library for your brand. While it's helpful that your brand assets are all together, brand management software is not just a library of your brand assets. That's just one of its functions.
This software does several things that make your branding and marketing team's jobs easier. Here are six of the most crucial features:
Digital Asset Management (DAM)
Digital asset management (DAM) tools allow you to organize, categorize, store, and retrieve all your digital assets. Your teams can share images, videos, audio files, and more amongst one another for editing, collaboration, reviewing, or distribution. It's what brand management software is best known for.
A media library with everything in one place, further categorized with descriptions, tags, and meta, simplifies your searches. Selecting and sharing digital asset files is a breeze. Plus, you get a comprehensive overview of your entire digital media portfolio.
Brand Guidelines Repository
A brand is more than just a message, a slogan, or a logo. It's a combination of those elements. But to keep your brand consistent and relevant to your target audience, you need brand guidelines. These dictate the brand elements, from the color palette and font to what your brand represents.
Brand management software can also serve as a brand guidelines repository, safeguarding your brand for future new employees. Although team members may come and go, the repository will keep everyone on track and true to the brand.
Asset Version Control
Every branding project and marketing campaign will necessitate revision and repetition. Your team may spend days or weeks creating new imagery or other content, only to start all over again. But their efforts don't have to be lost to time.
Asset version control allows your team to retain every version of every file along the production path. The latest version is always on view, with previous versions easily accessed for comparison. With version control, every change is accessible, trackable, and traceable.
Access Control and Permissions
Brand management software keeps your digital data safe. You wouldn't leave your financial documents or customer data vulnerable and exposed. You shouldn't do so with your brand assets, either. This software protects your digital rights by controlling access to your brand assets and setting permissions for users to view, edit, or share files.
It's the cornerstone of cybersecurity and lets you adapt your security measures whenever needed. Has your usual team grown in numbers? Grant the new members temporary access. Are their tasks compartmentalized? Set unique permission for each sub-group.
Template Creation and Management
When time is of the essence, you'll find it easier to use templates to kickstart a creative project for your brand. It saves time and hassle and makes meeting looming project deadlines much less stressful. In time, you'll probably create a few unique templates for future use.
Brand management software facilitates this template creation process and helps you manage your growing template collection.
Collaboration and Workflow Management
Brand management software manages your team's collaborative efforts and workflows. No matter how big or small the team is or how many tasks each member has to perform, this software will help them get the job done.
Brand management software can also automate many tasks, particularly the more repetitive steps. By reducing time spent on laborious tasks, your team will enjoy more time for creativity.
Benefits of Using a Brand Management Solution
When you use brand management software, your teams and company will reap the rewards. Here are the top benefits of using a brand management solution.
Consistency in Branding & Adherence to Brand Guidelines
Brand management software ensures that all your brand assets remain consistent. The software uses a combination of tools, features, and processes designed to create and maintain a unified brand identity.
The software provides a centralized repository for all your brand assets, including logos, fonts, color schemes, and imagery. Many solutions also offer templates and design tools that adhere to your brand guidelines. Having everything in one place ensures that all team members have access to the latest approved assets and templates.
The introduction of new staff, collaboration with other departments, or outsourcing of specific tasks all make it difficult to adhere to brand message guidelines. But that's no longer an issue, thanks to this benefit. They can stay up-to-date with your guidelines and get things right, every time.
Streamlined Workflows & Efficient Brand Asset Collaboration
Like other types of management software, brand management solutions let you automate repetitive tasks. That leads to a streamlined workflow and content collaboration process. However, unlike other software, this solution is designed for the complex requirements of brand management.
This increased efficiency is one of the most important benefits of brand management solutions. Everything gets done faster and with greater accuracy. This is the key to completing branding projects on time and running your brand marketing campaigns smoothly.
Enhanced Security
As a business owner, you're already familiar with the need for enhancing your security. From real-world security of your premises to cybersecurity for your big data, you've done all you can to protect both your physical and intellectual property.
Brand management solutions offer safe storage for all your brand assets, protecting them against theft, loss, and unauthorized access. Administrators can control which team members can access certain assets. Only authorized users can view, edit, and share them, reducing the risk of unwanted changes and file leaks.
Top 7 Brand Management Solutions
Now that you know all about brand management solutions and their benefits, here are our top seven picks to help you find the best fit for your business: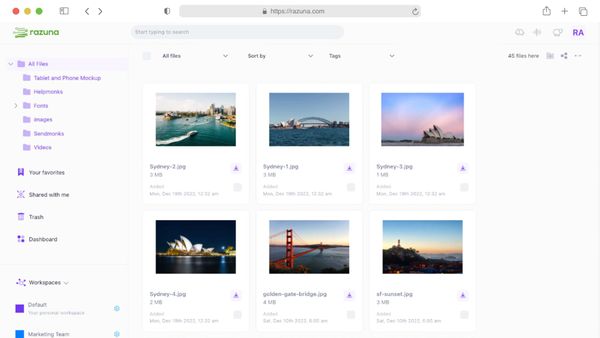 1. Razuna
Razuna is the ultimate brand management solution for companies of all types and sizes. This cloud-based brand asset management system will allow you to collaborate on digital brand assets, store them for future use, and share them quickly and easily.
Because everything is centralized, searching for any brand asset is lightning fast. With tailored descriptions, custom metadata, and tags, it's also easier than ever before to find the file you need.
Content collaboration, as well as edits, revisions, and reviews, are a breeze with the specially dedicated comments section. There's no per-user price, as the platform allows unlimited users. But no matter how large the team, nothing gets lost in the process - every action is logged and can be tracked.
Razuna is also a part of Helpmonks, an email marketing management platform. So if you have a Helpmonks account, Razuna is included, for a universal marketing and brand management solution.
Main Features
Digital brand asset management tools for faster searches and safer storage.
Customizable tags, metadata, and descriptions for easier brand asset classification.
Every aspect of brand collaboration is made simpler, with super-fast file sharing, live editing tools, and comments sections.
Cloud-based storage for total safety and security of your digital brand assets.
Set user access and usage permissions for groups of files, or individual files.
Best For
Razuna offers premium features that cover all aspects of brand management, yet are simple enough for new users to start using right away.
Razuna is best for anyone and everyone wanting to up their brand management game. Pricing is simple and affordable, and if you have a smaller team you can get started with a free account right away.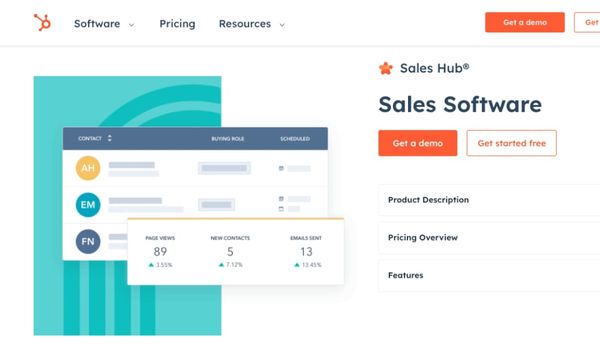 2. HubSpot
HubSpot lets you connect your data, teams, and customers on one underlying CRM platform. This CRM-based platform includes content management, marketing, sales, commerce management, customer service, and operations management hubs.
User-friendly AI tools allow you to automate tasks. And, because marketing and managing your brand requires regular collaboration, HubSpot integrates with various apps including Slack, Google Meet, and Microsoft Teams.
HubSpot offers a good support system, complete with an onboarding plan, 24/7 customer support, and special resources for startups.
Main Features
You'll have access to multiple management hubs with a core CRM.
Good support services are available to help you get started.
This platform is start-up-friendly, with extra resources for new businesses.
Automate tasks with AI tools.
Best For
You may already have operations, marketing, and sales management software in place. If you need a simple brand management solution, many of HubSpot's features will be unnecessary. HubSpot is best for startups and companies looking for a fully comprehensive management platform.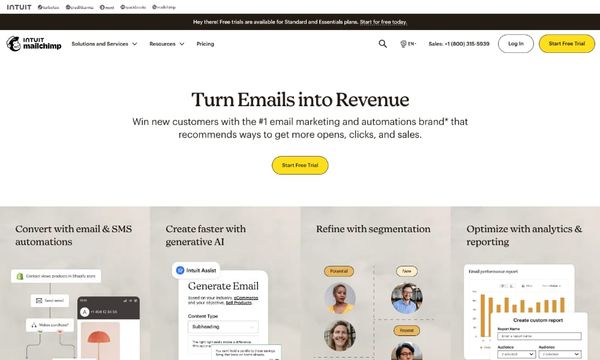 3. Mailchimp
Mailchimp is predominantly an email marketing platform. It promises to lead to higher conversions through automated emails, generative AI, customer segmentation plus analytics and reporting. These are all useful features for your brand marketing efforts.
Mailchimp also offers content creation and social media management tools, which are just as important to your brand development and marketing. The platform offers many integrations, including Canva, WooCommerce, and Google Analytics.
Mailchimp can help you streamline the marketing side of your brand management. It's easy to use and offers a variety of plans, including a free one.
Main Features
Solutions and services aimed at content creation and marketing, particularly email and social media marketing.
Customer segmentation allows you to target your audience more effectively.
Generative AI tools simplify the email marketing process, getting your brand marketing emails out faster.
Integrations with many popular apps you may already use.
Best For
Mailchimp is best for organizations heavily focused on email marketing. Unfortunately, Mailchimp doesn't address all aspects of brand management as effectively, for example, the earlier brand development stages.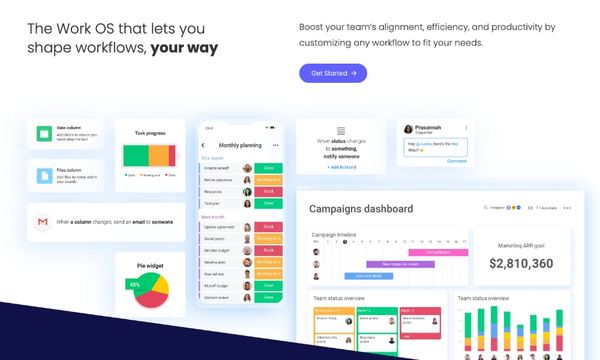 4. Monday.com
monday.com is a robust project management tool for teams of all sizes. With this platform, you have access to a variety of features and tools that streamline workflows and facilitate project management. This is useful for brand management, where collaboration plays a big role. The user-friendly interface and highly legible dashboards make the platform simple and fun to use.
Creative design, marketing, task management, and project management are some of the options you may find helpful for your brand management. You can centralize all your work processes, and customize your workflows to suit your unique work environment.
Main Features
User-friendly dashboards make working with the platform quick and easy.
You can centralize all your work processes.
Customize workflows and automate tasks automated to suit your needs.
Track your performance with monday.com's detailed insights.
Best For
monday.com is a useful cloud-based platform for simplifying and managing your team's workflows.
It's best for small to medium-sized businesses that need simple collaboration and workflow for more effective communication and teamwork.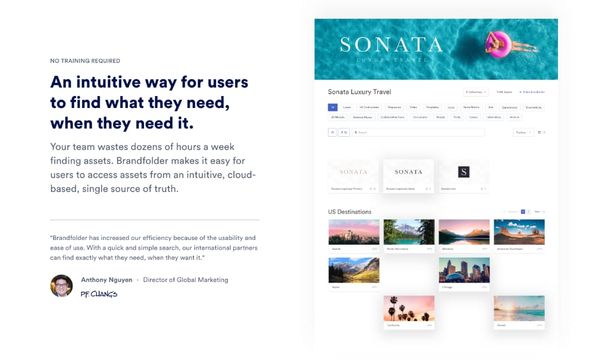 5. Brandfolder
Brandfolder is an intuitive digital asset management system that allows marketers across industries to optimize their brand management. The platform is cloud-based, allowing teams to access, edit, and share their digital assets from anywhere.
The platform comes with pre-built templates that will help you automate the content creation process, saving your team valuable time. It also offers digital brand guidelines so that your team can find all the latest assets and style guides all in one place.
Brandfolder comes with its very own AI engine, Brand Intelligence, that uses algorithms to tag and analyze all your digital assets.
Main Features
Integrates with many popular tools, including the Adobe Suite, Canva, and Microsoft.
Up-to-date digital brand guidelines.
Automate your content with Brandfolder's templates.
Track how your assets are performing with analytics.
Best For
Brandfolder is best suited for large organizations in the creative and marketing industries. Larger enterprises will benefit from its huge range of features. Navigating its suite of features as a smaller business may be complex and require additional training.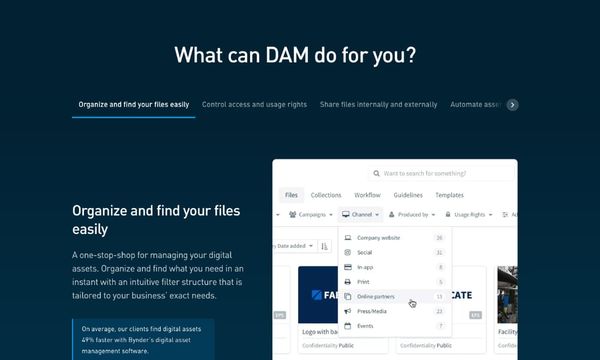 6. Bynder
Bynder is a secure, user-friendly digital asset management platform. It offers several brand management features like brand templates, a content studio, content and collaboration workflows, and a space for your digital brand guidelines. This makes it a good all-round brand management solution.
With Bynder, you can group your digital content in one place for easier file sharing and distribution. You can also control the access and usage of your digital media and automate optimization tasks. The content workflow lets you manage your brand assets at scale and schedule them for review or approval.
Main Features
Content and creative workflows for easier content creation and collaboration.
Bynder integrates with several Salesforce marketing and e-commerce apps.
Automations allow you to optimize digital assets, useful for smaller teams.
Share assets of unlimited sizes without risk of data loss with Bynder Express.
Best For
Bynder is a good digital asset management platform with three paid plans. It's ideal for managing the more visual aspects of your branding, for the online market. It's best for creatives and marketers looking to scale their digital media presence with an easy-to-use platform.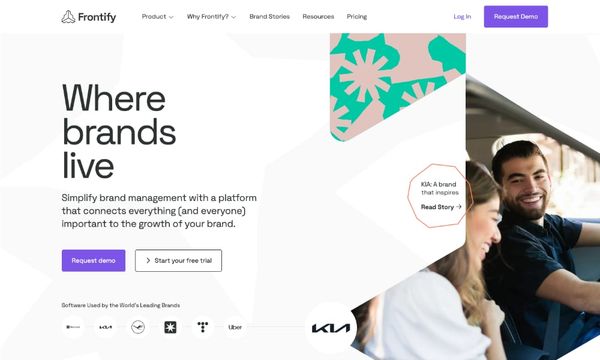 7. Frontify
Frontify is a brand management platform that simplifies processes by centralizing all your assets and brand guidelines. On the platform, several stages of the brand management process are addressed. There are tools for digital asset management and creative collaboration, as well as a space for formulating your brand guidelines.
Your team can share digital content like images and videos, and add notes to them to facilitate better teamwork. Control the access to your digital assets, and automate the feedback and approval cycle amongst authorized users.
Main Features
Attach notes to digital images for enhanced collaboration.
Control users' access and set permissions for usage.
Automate the review and approval process so digital assets can be finalized and distributed, sooner.
Create pre-approved designs and templates in digital and print.
Best For
Frontify is a user-friendly digital asset management platform that simplifies many brand management tasks. Like some of the other platforms mentioned here, it's more geared toward online marketing content. This platform is best for companies who are looking to optimize their digital marketing.
Conclusion
Brand management solutions are the software solutions that keep your brand on track, with features that improve productivity and collaboration and streamline workflows. You'll enjoy benefits like increased efficiency and enhanced brand asset security.
The best investment you can make in your brand is Razuna's brand management solution. Our brand asset management software offers all the tools you need in one centralized, user-friendly, and affordable platform. Register for your free Razuna account today!