Today, over 60% of corporate data is stored in cloud-based systems. It's no surprise that many businesses are turning to cloud storage services for storing and backing up their digital assets. Cloud storage services empower you to upload and keep digital files in remote servers, rendering them accessible from any internet-connected device.
There are plenty of popular file storage cloud services to choose from. Our curated list of the top 10 solutions for 2023 will help you select the one that matches your business's unique needs and goals.
What is Cloud File Sharing?
Cloud file sharing is a system that leverages internet technology and remote servers known as "the cloud" to store files and data securely. It stores all file types, from product images and vital documents to media favorites. You can access these files anytime, anywhere.
The cloud not only provides ample storage space for your files, but it also enables effortless file sharing. With cloud file sharing, sending a link is all you need to share your file. The recipient can effortlessly access and view your file whenever they wish.
With the ever-growing dependency on the internet for data storage, the importance of data security has surged. Luckily, cloud file-sharing services are usually fortified with robust security measures. Encryption, for instance, scrambles data for secure access. Similarly, multi-factor authentication requires multiple forms of identification, making cloud data storage safer than you imagine.
How Does Cloud File Storage Help With Collaboration?
When it comes to team collaboration, cloud file storage is a game-changer.
Why?
Offering a centralized location for documents eases sharing and enables all team members to collaborate effortlessly and seamlessly.
It also streamlines communication since comments can be added directly to documents, allowing teams to discuss changes without having to e-mail back and forth or schedule a meeting.
In addition, cloud file storage allows members to work on the same document from different locations, which can be extremely helpful when working with remote teams.
Cloud file storage has revolutionized team collaboration by increasing productivity and efficiency. With the right provider, access to files from any device or platform - be it mobile devices, desktops, or laptops - is made possible. This translates to unhindered access to all your documents. It also means seamless collaboration on them with your team, irrespective of location or time zone.
Ten Cloud Storage Providers for 2023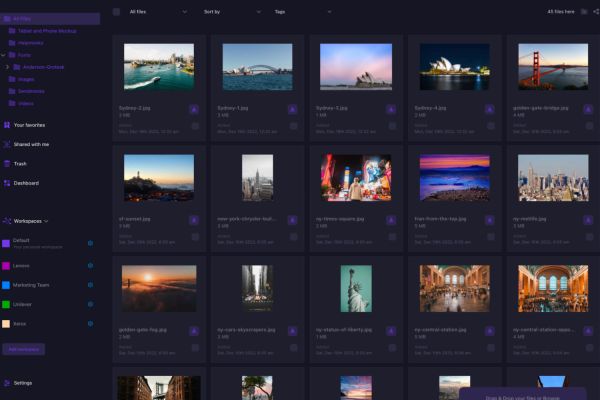 1. Razuna
Razuna is a cloud-based cloud storage and digital asset management (DAM) solution for teams of all sizes. It helps organizations easily manage and efficiently distribute digital assets such as images, videos, documents, and audio files. It also provides a secure and reliable way to store and share files. What sets Razuna apart from other cloud storage providers is its powerful DAM capabilities.
Some of its key features include:
Client workspaces:

This powerful project management tool allows you to send the right assets to the right people at the right time.

Custom labels:

Search through thousands of files quickly and easily with customized labels.

Online image editor:

Through the Razuna editor, you can add text, crop, and resize images without downloading any software.

Keywords, description, and metadata:

Add keywords, descriptions, and metadata to your assets quickly and easily. This enhances search functionality and makes it easier to find specific files.

Comment and collaborate:

Add comments to files and collaborate easily with colleagues, partners, and customers.

Security:

Razuna uses GDPR and HIPAA-compliant cloud servers for secure storage and assured uptime.
Best For:
Razuna is the perfect solution for companies, big or small, that require a trusted cloud storage system. Due to its advanced security features, individuals seeking a secure and efficient method of storing and sharing media files and documents on the cloud opt for it.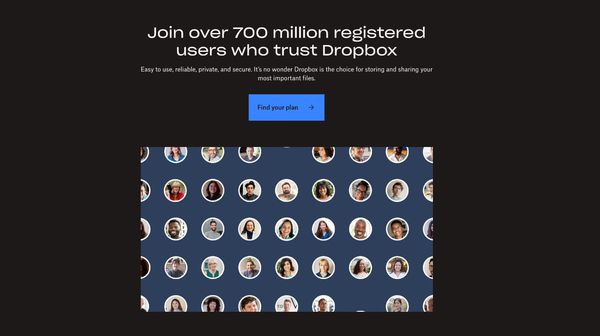 2.
Dropbox
Dropbox is designed to be intuitive and user-friendly, allowing you to upload, share, and access all your important files. You can easily create folders, move files, and control access. The experience remains uniform across different devices, whether the web interface, desktop app, or mobile app.
Some of its key features include:
Syncing:

With Dropbox, you can sync your files across all devices, ensuring the most up-to-date version is accessible wherever you go.

Collaboration features:

Dropbox has collaboration features that make it easy to work with others. It also integrates with many other tools, such as Slack and Zoom, streamlining your workflow even further.

File recovery and version history:

Restore deleted files or revert to a previous file version. This feature acts as a safety net, helping you avoid data loss.

Security:

Dropbox deploys 256-bit AES encryption and two-factor authentication to keep your data safe. These measures fortify the protection of your confidential files.

Offline access:

Mark files for offline access and view/edit without connecting to the Dropbox app. The changes you make will sync once you're connected again.
Best For:
Dropbox is best for those who need a reliable file storage and sharing solution with a simple user experience. It's particularly well-suited for teams that need powerful collaboration tools and don't mind paying extra for them.
Not entirely sold on this platform? You should also check out the best Dropbox alternatives .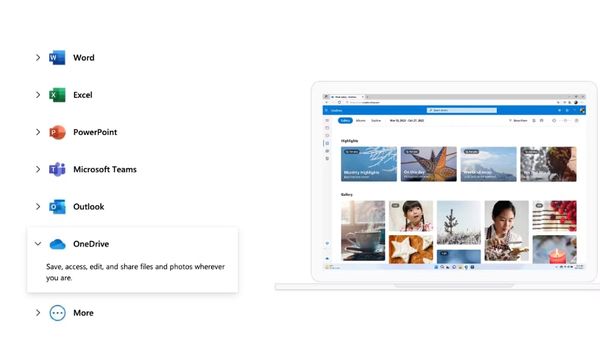 3.
Microsoft OneDrive
With Microsoft OneDrive , you get all you need in one place. Store documents, share files, collaborate, and boost productivity. It supports different files like images, videos, music files, PDFs, and more. Its intuitive user interface simplifies storing and accessing your files from anywhere.
Some of its main features include:
Integration with Microsoft Office

: OneDrive integrates with Microsoft Office apps, allowing direct document opening, editing, and saving from and to OneDrive without downloads.

File collaboration:

Multiple users can collaborate on the same document simultaneously. This is especially useful for teams working remotely or in different geographical locations.

Personal vault:

This feature offers an extra layer of security for your most sensitive files. It requires two-factor authentication to access and automatically locks after a period of inactivity.

File version history:

This platform maintains versions of files for up to 30 days (or more, depending on your plan). This is particularly helpful if you need to revert to an older document version.

Ransomware detection and recovery:

OneDrive has a feature that helps protect your files from ransomware attacks. If an attack is detected, OneDrive will alert you through an email, mobile, or desktop notification and guide you through recovery.
Best For:
Microsoft OneDrive is a good file storage cloud service for those who need safe and dependable storage. It works great with Office 365, which is amazing news for freelancers and small business owners who want to maximize collaboration.
4.
iCloud
iCloud is Apple's cloud storage service. It provides an easy and highly secure storage solution for Mac and iOS users. This platform lets you save your important stuff – documents, photos, notes, and contacts in apps you already use, like Photos, Messages, and Mail. You can then access them from any of your Apple devices.
Some of its key features include:
iCloud Drive:

You can keep all your docs, pics, and vids safe and easily accessible on any Apple device or iCloud.com. Changes made on one device are automatically updated on all other devices.

Backup and restore:

iCloud automatically backs up iOS and iPadOS device data when connected to Wi-Fi. You can restore this data on a new device or after a factory reset.

Find My Device

: This feature helps locate a lost Apple device and can be used to share your location with family and friends.

iCloud Keychain

: iCloud Keychain securely stores passwords and credit card information, syncing this information across devices. It can also generate secure passwords for different services.

Family sharing:

Ma

kes it easy for up to six family members to share purchases such as apps, music, movies, books, and more.

iWork for iCloud:

iCloud also includes iWork for iCloud, which allows users to create and edit documents with Pages, Numbers, and Keynote directly from a web browser.
Best For:
iCloud is best for Apple product users who want a secure, easy-to-use cloud storage solution. It benefits those with multiple Apple devices who wish to keep their data in sync.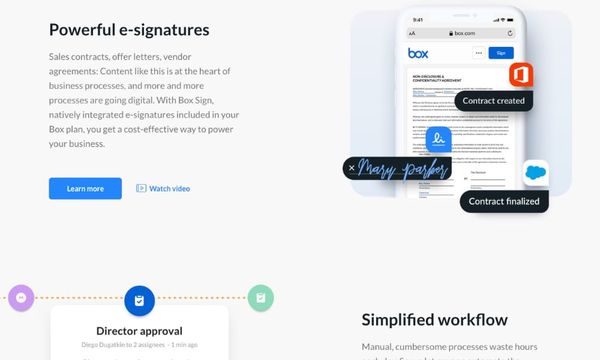 5.
Box
Box offers secure and scalable content creation, management, sharing, and archiving. It gives you powerful tools to organize your data into workflows, add custom metadata tags to files for easy searchability, create company-wide collaboration folders, securely share documents with external parties through expiring links, and much more.
Some of its key features include:
File versioning:

Box keeps track of different versions of a file. Users will always see the latest version when you share a file, but you can still access and restore previous versions if needed.

Box collections:

Organize your shared files and folders into collections, which makes managing and navigating your content easier.

Permission levels

: When you share a file or folder, you can set different user permission levels. For instance, you may restrict some users to viewing the file while allowing others to edit it. You can also enable users to upload files to a shared folder.

Collaboration:

Box allows multiple users to collaborate on documents in real-time. It integrates with various productivity tools like Microsoft 365 and Google Workspace, enabling users to edit documents without leaving the Box environment.
Best For:
Box is best suited for businesses with complex content management and collaboration needs. It is a great option for teams that need to organize, store, and share large amounts of data securely.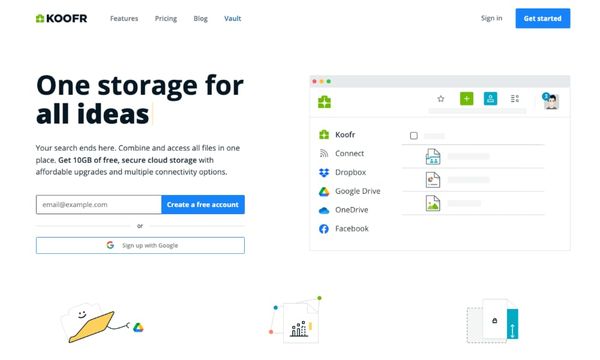 6.
Koofr
Koofr is a trusted cloud storage platform that emphasizes reliability and secure file sharing. It unites with other key storage services like Dropbox, Google Drive, and Microsoft OneDrive so that you can manage everything from one convenient location.
Some of its key features include:
Multi-platform support:

With Koofr, your essential files are accessible from virtually any internet-enabled device! Whether you're on Windows, macOS, Linux, Android, or iOS, this platform has you covered.

Data privacy and security

: Koofr uses SSL/TLS to transfer files to and from the service to ensure data security. It also complies with GDPR regulations for data privacy.

File management tools:

Koofr provides several tools for organizing files, including renaming, moving, and deleting files or folders.

File versioning:

Koofr keeps older versions of your files for a certain period (depending on your plan), allowing you to restore a previous version if necessary.
Best For:
Koofr is best for users who want to manage multiple cloud storage services from one central location.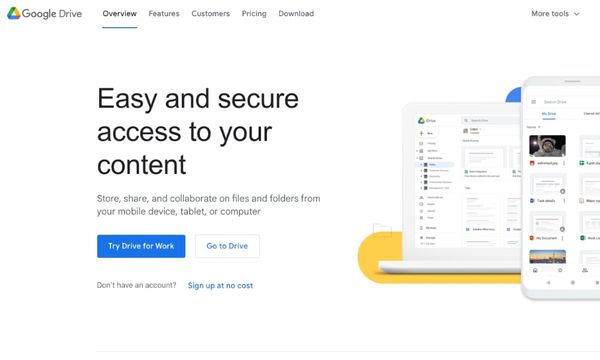 7.
Google Drive
Google Drive has been the go-to cloud storage solution for over a decade, providing reliable, secure file storage in an easy-to-use online interface. What's more, it fully integrates with other Google services such as Gmail, Google Docs, Sheets, and Slides, making it incredibly simple to share documents and files in different formats.
Some of its key features include:
File sharing and collaboration:

Google Drive simplifies sharing files or folders with others, giving you control over who can view, comment or edit them. It's an effortless way to collaborate on content, streamline workflows and enhance productivity.

File backup and sync:

This platform has a feature to sync files across devices. Any file or folder in your Google Drive folder is automatically synced with the cloud.

Version history:

GDrive maintains versions of all files, allowing you to see what changes were made and by whom. You can revert to a previous version of a file if needed.

Offline access:

You can make your files available offline to view and edit without an internet connection. Changes made offline are synced once you're back online.
Best For:
Google Drive is the perfect solution for those requiring smooth document collaboration and easy file sharing. Moreover, it's ideal for those who want seamless offline and online access to their data from any device.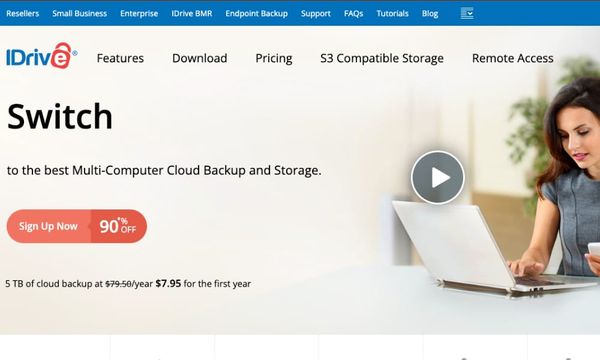 8.
IDrive
IDrive is a hybrid cloud storage platform that provides ultimate flexibility and control. With IDrive, you get enough free storage to back up your personal or business devices. It also offers military-grade encryption and excellent collaboration features such as real-time syncing, remote access, and file sharing.
Some of its key features include:
True archiving:

With IDrive, when you delete a file from your device, it's not automatically deleted from your account unless you manually delete it or run 'Archive Cleanup.' This helps in case you accidentally delete a file from your device.

Security:

IDrive provides 256-bit AES encryption to secure your data. There's also an option for private key encryption if you want maximum protection.

Incremental and compressed backups

: IDrive only uploads the parts of files that have changed, saving bandwidth and ensuring faster backups. Data is also compressed for quicker uploads.

IDrive Express:

This is a quick backup and retrieval method wherein IDrive sends a physical hard drive to your place. You can back up large amounts of data to this drive and send it back to them, saving a lot of upload time.
Best For:
IDrive is best for users who need a comprehensive backup solution that offers excellent security. It's also ideal for those who need to back up an unlimited number of devices and those who want the ability to archive their data.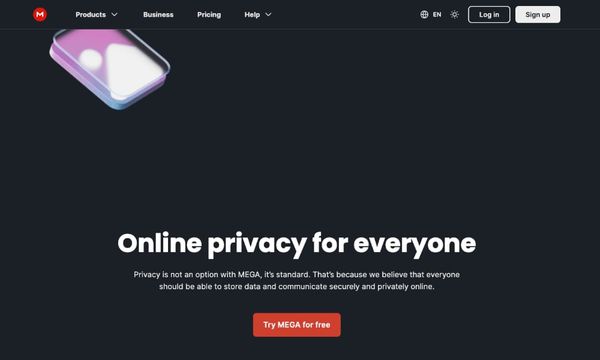 9.
MEGA
MEGA is a file storage cloud service that offers secure cloud storage, file and folder sharing, and synchronization. With a simple-to-use interface, MEGA makes file storage and sharing easy for businesses and individuals.
Some of its key features include:
Zero-knowledge encryption

: Zero-knowledge encryption for your data, so you retain complete control of your data.

Advanced sharing options:

Get

advanced sharing options for both files and folders, allowing you to share with specific users or groups of people.

Embedded media viewer:

E

mbedded media viewer lets you quickly view images and videos without downloading them.

Integrated chat:

Integrated chat lets you discuss files and folders with others, making collaboration easier.
Best For:
MEGA stands out as an ideal choice for businesses, freelancers, and individuals who want a user-friendly platform to share files and collaborate seamlessly.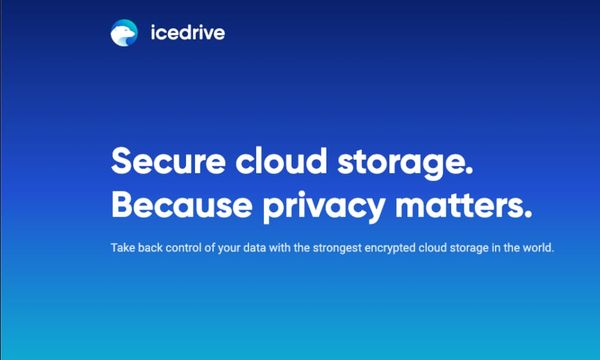 10.
Icedrive
Although relatively new, Icedrive has become a popular cloud storage provider due to its diversity of features that cater to personal and business needs. With an interface boasting user-friendliness, it's well-suited for both beginners and experienced users.
Some of Icedrive's features include:
Twofish encryption:

This encryption is among the most secure out there. It ensures that all your data is safe from unauthorized access.

Zero-knowledge privacy:

Icedrive offers zero-knowledge privacy, ensuring no one else can access your files.

Batch Download:

Icedrive allows you to download multiple files or entire folders as a ZIP file, saving time and data usage.

Versioning:

Never lose track of your work progress with Icedrive. It stores previous file versions for up to 30 days, enabling you to revert changes anytime.

Drive Mounting:

You can mount your cloud storage space as a local hard drive on your computer. With the feature, you can manage cloud files in the same way you would manage locally stored files on your computer.
Best For:
Icedrive is best for businesses and individuals seeking secure, reliable cloud storage. Newcomers to cloud storage will find Icedrive easy to use.
What Are Typical Use Cases For Cloud File Storage?
Content Management
Cloud storage offers an ideal solution for managing content, providing easy access and storage for vast amounts of data. Its versatility is perfect for businesses in media and retail that handle large amounts of content.
Media and Entertainment
Media and entertainment companies can store large amounts of audio and video files through cloud file storage. This makes it easier to access them quickly and efficiently without worrying about hardware capacity or bandwidth limitations.
Database Backups
Cloud-based file storage serves as an excellent option for database backups. You can effortlessly store large database backups in the cloud with quick access in case of unforeseen circumstances. This guarantees around-the-clock preparedness for any eventuality.
Analytics
Cloud file storage isn't just about keeping files safe. It can also optimize your analytics game. With large datasets stored in the cloud, you can quickly examine data to gain insights into customer behavior or trends in the market.
Web Serving
By storing static assets - images, videos, or documents - in cloud storage, your website remains up-to-date and accessible from anywhere around the world.
End-user Computing
Cloud file storage also serves as a valuable end-user computing solution. By storing user data in the cloud, it becomes readily accessible to employees, customers, and stakeholders from any location or device. This contributes to improved collaboration and productivity, acting as a powerful tool for organizations to drive workplace efficiency.
Conclusion
When choosing a cloud storage solution, remember to take a step back and consider your needs. Different services offer different features, with varying prices and levels of security. Look for one that's right for you and your organization's requirements.
The ten file storage cloud services outlined in this article each provide unique features and benefits. Whether you're looking for an all-in-one solution or something more specialized, there's sure to be a service that meets your needs.
Razuna stands out from the pack as the most affordable and versatile file storage solution, offering convenience, affordability, and security. Thanks to its robust features, you can store and share your files quickly and easily. Try it today!