On July 14, 2022 we relaunched Razuna with many new features and a new design.
However, that version was always meant as a temporary one as we were planning a complete rewrite of the tool and its technology stack.
Today, we are excited to announce that we have completed the re-design of Razuna. The new version is already available to everyone over at https://razuna.com. Apart from redesigning, we also added labels, a lighting-fast search, and other new features.
We also migrated all accounts and data from the previous version. You will also be happy to know that we keep providing our free account with a whopping 500 GB of free storage.
What's new?
The new Razuna is based on the same code as Helpmonks, our team email management platform. As a fact, users of Helpmonks will get an entire DAM library integrated with their account and be able to flawlessly browse all their email attachments together with any other files within the DAM.
Using the same technology stack for Razuna and Helpmonks puts us in a unique position, as we can share many existing features from Helpmonks within Razuna.
For instance, the option to add and use custom fields (custom metadata) is already in use within Helpmonks. Hence, we will also add the option to create custom fields within Razuna (coming soon). The same applies to oAuth and SAMLv2 login. We plan to add many more features, and I encourage you to visit our public Razuna Roadmap.
Labels
The new Razuna version also introduces Labels. You can use these labels to tag your digital files. You can then use tags to find your files, independent of the folder location, quickly. Besides, labels greatly enhance usability within the search results.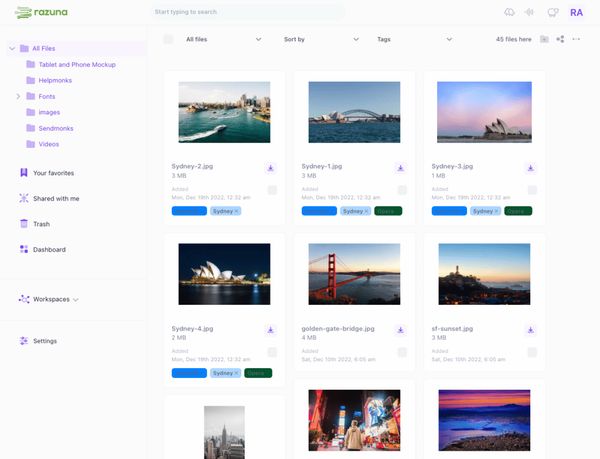 Sharing
Sharing your files with external users or other team members is an integral part of any Digital Asset Management platform. With Razuna, you have two options.
For one, you can create Workspaces to share with others. You and your team can then collaborate on files and folders within a Workspace. Workspaces are also perfect for bringing in your customers or photographers.
The other option is to share a folder quickly with a shareable link. Each shareable link can have different settings, e.g., an expiration date, allowed to upload files, or only providing access with a password.
Whatever method you choose, for both, we enhanced the user experience manifold. We are also working on sharing individual files.
Search
We've dedicated many resources to creating the best and fastest image library search for you. With that, anything within Razuna can be found within milliseconds.
Furthermore, we provide an intuitive search facet option that summarizes the found results automatically for you. The summary is shown in the left sidebar; clicking on any of these will allow you to narrow your search results further.
Razuna automatically indexes any metadata that it can find within your files. It also indexes your custom description, keywords, and labels. Indexing the content of PDF and Word files follows soon too.
Too many to mention
The Labels and the new search are just the two most prominent enhancements out of many. However, there are several new options and functionalities in just about every pixel within Razuna.
Existing users got migrated already and can now sign in already. If you don't have a Razuna account, create a free account at https://razuna.com (it comes with 500 GB storage).
What's next?
Collaboration is a big part of Helpmonks. After all, we built a Team Collaboration Platform. Thus, we will soon add a commenting and annotating option to Razuna. Besides, an image editor will make its way to the system too. Also, the API will be completed in the coming months.
Another thing we are excited about is "automated tagging". With it, we can analyze your images and provide you with what has been found within them. For instance, if you have taken a picture on a sunny day with a bridge in the background, the system will "see" this and provide you with keywords of "bridge", "sun", and "blue sky".
More coming soon. Please give Razuna a try. Sign up at https://razuna.com