Data is the lifeblood of any business. It is the key to staying competitive, growing a customer base, and driving innovation. So, ensuring your data is secure, available, and easily accessible to employees is essential. Cloud storage provides just that – a safe and cost-effective way to store, access, share, and back up data.
The right cloud storage tool will ensure optimum productivity and collaboration for your business. So choosing the best solution is a huge decision. To help you make the right one, we've compiled a list of A-class solutions in the market based on several factors, including value for money, security, reliability, and ease of use. Let's dive in!
What Is Cloud Storage?
Cloud storage is a virtual space used to store data in the cloud. It's like having an external hard drive that you can access from anywhere with an internet connection. It provides a seamless and convenient solution for storing and managing data, anytime and anywhere.
Cloud storage involves the distribution of data across multiple servers in different locations rather than keeping them on a single local storage device. This is facilitated through data center infrastructure managed by cloud service providers. They are responsible for keeping the data available and accessible, and the physical environment protected and running.
When you upload a file to the cloud, it is securely stored on one or multiple remote servers, ensuring its accessibility and preservation.
8 Best Cloud Storage Services for Your Small Business
Below are eight of the best cloud storage services for small businesses: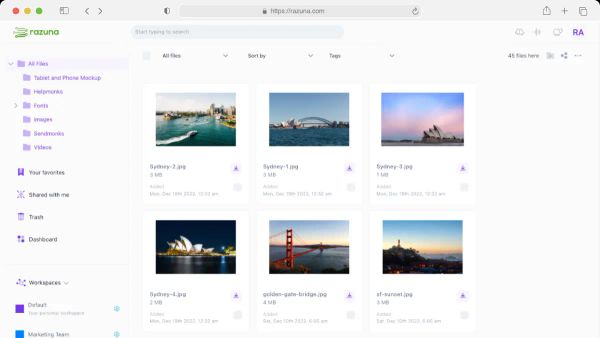 1. Razuna
Razuna is a versatile cloud storage solution that focuses on digital asset management. It provides a secure, customizable platform with features like user-defined access rights and support for multiple media types.
This service stands out due to its focus on multimedia files, making it useful for businesses in the creative industry or those that work with multimedia content.
Razuna provides small businesses with a robust and user-friendly platform for managing digital media files. Harnessing the power of open-source technology, this system lets you sculpt a customized solution that aligns with your business demands.
Some of its key features include:
Secure cloud DAM: Razuna provides secure cloud-based digital asset management, including features like user role-based access controls and encrypted storage. It also boasts GDPR and HIPAA-compliant cloud servers.
Unlimited users: No matter the size, businesses can embrace this unrestricted service, making it the perfect fit for small and medium-sized enterprises.
File Sharing: Razuna provides options to share a single file, a folder, a collection, or an entire Workspace with your team or third-parties.
Search Capabilities: With Razuna you can find everything quickly. It allows you to filter by file type, years, tags, and more. It also features a full-text search for Word and PDF documents.
Audit Trail: Keep track of all user activities, giving you a better view of how your digital assets are being used.
Trash: This feature helps you recover deleted files, which can be a useful safety net when accidents happen!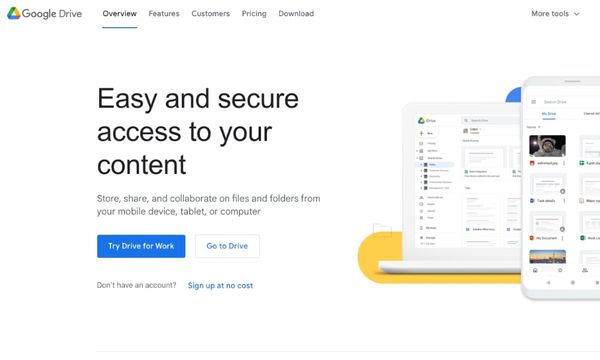 2.
Google Drive
Google Drive provides cloud storage to businesses of all sizes. It offers you access to your files from anywhere with an internet connection. It also encourages real-time collaboration on a wide range of documents, spreadsheets, presentations, and more.
Some of its key features include:
File Storage and Sharing:

Store, share, and access files across all internet-connected devices.

Collaboration Tools: Drive integrates with Google Docs, Sheets, and Slides for simultaneous collaboration on documents, spreadsheets, and presentations.

Search Capabilities:

Google Drive offers powerful search tools, allowing you to search by file type, owner, and more. It can even search text in scanned documents or images using Optical Character Recognition (OCR) technology.

Security

: Google Drive uses encryption to protect your data in transit and at rest. You can also set sharing permissions to control who can see your files.

Version History: Google Drive keeps track of changes made to files, allowing you to see older versions and who made specific changes.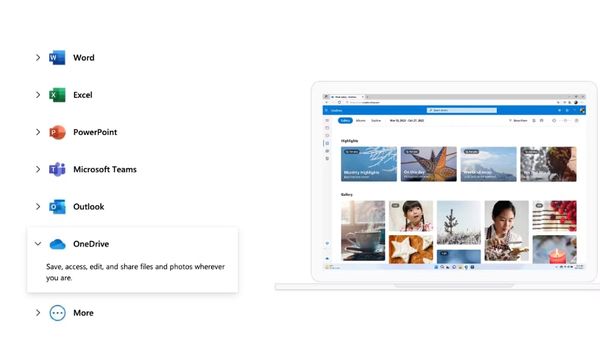 3.
Microsoft OneDrive
Microsoft OneDrive is a reputable cloud storage service used by individuals and businesses of all sizes. What makes it a good solution for small businesses is that it has a user-friendly interface and a wide array of features. It is also affordable and seamlessly integrates with other Microsoft Office applications.
Some of its key features include:
File Syncing and Sharing

: OneDrive offers file syncing across multiple devices. Users can update files from any location, and the changes are synchronized across all connected devices.

Collaboration: Integrated with Microsoft 365, OneDrive allows multiple users to co-author and simultaneously work on files in real time. This includes Word documents, PowerPoint presentations, and Excel spreadsheets. The integration boosts productivity and collaboration.

PC folder backup: OneDrive automatically backs up your PC folder to the cloud, ensuring that you don't have to worry about manually uploading files.

OneDrive Personal Vault:

This is a protected area within OneDrive where users can store their most private documents. It requires an additional authentication step for access, ensuring a high level of protection.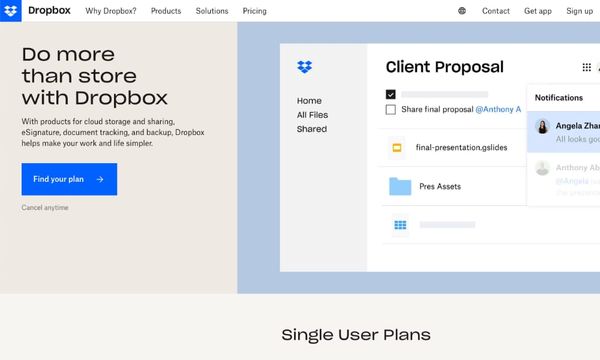 4.
Dropbox for Business
Dropbox Business is a cloud storage solution designed to facilitate collaboration and secure file sharing in the workplace. It offers robust file and folder-sharing capabilities, integration with numerous other software, and strong security measures.
Some of its key features include:
File and version recovery: Dropbox Business allows users to recover any version of a file, no matter how old it is. The recovery process is simple and accessible, requiring no technical expertise.

Team folder manager: Administrators can create team folders and assign permissions to individual users. This makes it easy to keep control over which documents are shared and with whom.

Smart sync:

With this feature, you can view and access all your Dropbox files and folders from your desktop, without occupying precious hard drive space.

Remote wipe: If an employee leaves the organization, administrators can remotely wipe all of their files from the Dropbox account. This ensures that only authorized personnel have access to sensitive documents.

Dropbox Paper:

This is a collaborative workspace that makes it easy to work with colleagues on documents, presentations, and other projects.

Third-party app integrations: Dropbox Business integrates with a range of over 300,000 third-party applications, offering users a convenient way to incorporate content and files from various sources.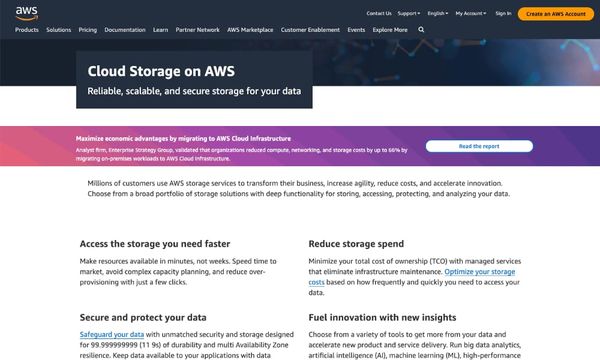 5.
Amazon Web Services (AWS)
Amazon Web Services (AWS) offers a comprehensive suite of cloud-based products that encompass robust computing capabilities, flexible database storage solutions, and effective content delivery services.
Among the most popular AWS cloud storage services are the following:
Amazon Simple Storage Service (S3)

Amazon Elastic Block Store (EBS)

Amazon Elastic File System (EFS)

Amazon Glacier for long-term backup and archiving.
These offerings empower businesses with scalable, reliable, and secure storage options tailored to their needs in the cloud.
AWS's infrastructure is known for its high availability, scalability, and security. This makes it a good choice for businesses with high volumes of data or those planning to scale.
Some key features of AWS include:
Scalable storage: AWS offers highly flexible and scalable storage solutions, exemplified by the powerful Amazon S3. It manages massive volumes of data from anywhere on the web.

Diverse storage options

: AWS offers a range of storage services tailored to your requirements. Whether you need block storage (EBS), object storage (S3), file storage (EFS), or long-term archiving (Glacier), you have the flexibility to choose the perfect solution for your needs.

Data transfer and migration services:

AWS provides services such as AWS DataSync for easy, automated data transfer, and AWS Snowball for large-scale data migrations.

Integration:

AWS storage services integrate seamlessly with other AWS offerings, such as EC2 for compute power and RDS for relational databases.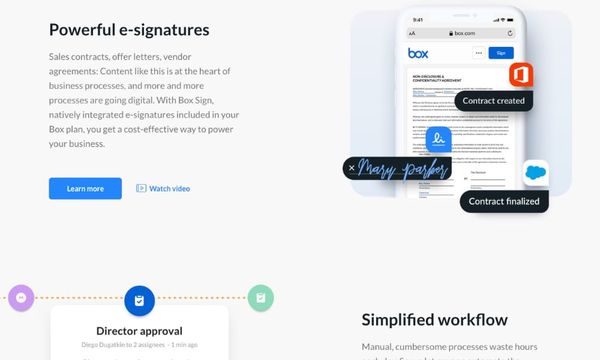 6.
Box
Box is a cloud storage solution built specifically for businesses and IT teams. It offers secure, scalable content-sharing and collaboration capabilities, and integrates with popular tools such as Google Workspace, Office 365, and Salesforce.
Box also helps businesses manage and collaborate on content in a secure environment. The intuitive interface ensures effortless file organization and collaboration among team members. The extensive administrative controls help businesses manage their data with great attention to detail.
Some of its key features include:
Security and Compliance:

Box provides security features like file encryption, granular permissions, and user activity tracking. It also complies with various industry regulations, including GDPR, HIPAA, and FedRAMP.

Workflow Automation:

With Box Relay, you can automate repetitive processes, making it easy to create, track, and manage workflows.

Box Skills: This uses machine learning to extract insights and data from your content. Box can automatically tag images based on their content, transcribe audio files, or extract text from scanned documents.

Box Zones: This feature lets you store your data in specific geographic locations (zones) to meet data residency requirements.
7.
JustCloud
JustCloud is a simple and user-friendly cloud storage solution. It offers the ease of online storage, file syncing and sharing, and reliable backup services. Accessible on multiple devices including PCs, Macs, and mobile, it ensures convenience and versatility.
JustCloud's setup process is straightforward, making it a good option for businesses that want a simple, no-fuss cloud storage solution.
Some of its key features include:
File storage and sharing: Store, access, and share files from any device. You can easily share files with others via email or social media.

File versioning: Retrieve and recover previous versions of your files. This feature is a saving grace in situations where accidental modifications or deletions occur.

Automatic backup: JustCloud can automatically back up your files to the cloud, offering an easy way to safeguard your important data.

Sync across devices: Sync your files across multiple devices using a dedicated sync folder.

Drag-and-drop interface:

JustCloud's desktop application features a simple drag-and-drop interface, making it easy to select files and folders for backup.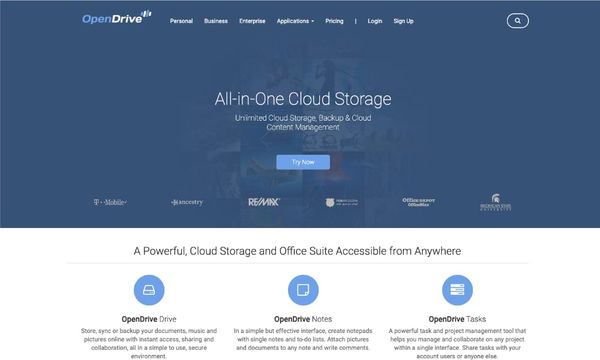 8.
OpenDrive
OpenDrive offers a streamlined cloud storage service for file storage, backup, and syncing across multiple devices. It goes beyond file storage, offering additional features for businesses, like task and project management.
With its boundless storage capacity, this solution is great for businesses that handle large volumes of data.
Some of its key features include:
File storage, syncing, and sharing

: Store, sync and share files across all devices.

Collaborate with your team in real time.

File encryption and de-duplication:

OpenDrive encrypts your data for added security, and de-duplicates your files to help you save storage space.

Task and project management:

OpenDrive comes with task management capabilities. Team members can create and assign tasks, and track their progress.

User management and access controls: Administrators can manage user access, setting up specific permissions for each user or team.

Automatic backup: OpenDrive can automatically back up files across all your devices.

Hotlinking:

Link directly to a file stored on OpenDrive, making it easier to share content on websites or blogs.
Conclusion
Finding the ideal cloud storage for your small business is a tricky process. You need to analyze the features and security measures of each potential solution and choose the one that has everything you need to help your business run smoothly.
All the options outlined in this article are among the top-rated cloud storage solutions for small businesses and offer excellent features, security measures, and customer service. But Razuna stands out as the ultimate solution - and for a good reason.
Experience the ultimate cloud storage solution that combines effectiveness, reliability, and scalability. Its intuitive user interface will allow your small business to effortlessly store, organize, and manage data in the cloud. Take the leap today and watch as your business transforms with Razuna!